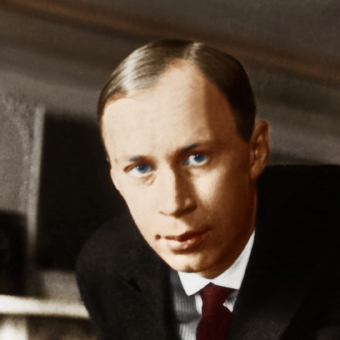 Serge Prokofieff
1891 - 1953
With an early reputation of an enfant terrible and virtuoso pianist, Serge Prokofieff became a major figure of the 20th century and is one of its most popular composers, with music characterised by sharp wit, memorable melodies, and vivid instrumental colour.

He left Russia in 1918 for the USA, but returned in 1936 to recapture his roots. His works from these Soviet years are among his most celebrated - for example: Peter and the Wolf, and the ballet Romeo and Juliet. During this time, however, he was also under political attack from cultural commissars.
He died in 1953, on the same day as Stalin.

"In my view, the composer, just as the poet, the sculptor or the painter, is in duty bound to serve man, the people. He must beautify life and defend it. He must be a citizen first and foremost, so that his art might consciously extol human life and lead man to a radiant future." - Serge Prokofieff

Read more about the composer by subscribing to Three Oranges journal, published by The Serge Prokofiev Foundation.
Bestselling Titles by Serge Prokofieff