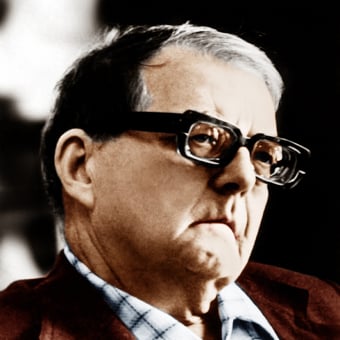 Dmitri Shostakovich
b. 25 September 1906, St Petersburg
d. 9 August 1975, Moscow
Dmitri Dmitrievich Shostakovich was born in St.Petersburg in 1906 on 12 September (Old Style) / 25 September (New Style). Exceptionally talented, he entered the Petrograd Conservatory aged 13, studying piano and composition, and graduated in 1925 with his First Symphony op.10. Its triumphant premiere in 1926 was followed by performances in Europe and the USA and, aged 19, Shostakovich was world-famous.
In his youth Shostakovich wrote much for the theatre, producing three ballets and two masterly operas: The Nose op.15 (1928) and Lady Macbeth of the Mtsensk District op.29 (1932). After fierce and public criticism in 1936, apparently instigated by Stalin himself, he changed direction and his output became predominately for the concert hall. Among a vast mass of orchestral, chamber and vocal music his two cycles of 15 symphonies and 15 string quartets stand supreme. Though still controversial, they are among the most frequently performed works of their century.
Of the symphonies the Fifth op.47 (1937), the Eighth op.65 (1943) and the Tenth op.93 (1953) have entered the standard repertoire everywhere. The modernist Fourth op. 43 (1936), long suppressed by the Soviet authorities, is now recognised as a masterpiece, while the Seventh op.60 (1941), written during the Siege of Leningrad, became a symbol of the wartime struggle throughout the Allied world.
In 1948 Shostakovich was violently criticised and humiliated at the Soviet Composers' Congress. As in 1938 he became persona non grata. His works were banned and he was politically and artistically isolated.
In 1960, having withstood the attacks of '36 and '48, he gave in to pressure and joined the Communist Party. This capitulation caused personal misery and offended friends and colleagues. During this time he wrote, in three days, his String Quartet No.8 op.110 (1960), which he called 'an obituary for myself'. This work, which has found a wide audience, weaves quotations from his own music and scraps of other composers, Jewish music and a 19th century prison song into a powerful dramatic structure. Powerful in a different way is the Thirteenth Symphony op.113 (1962), for bass, chorus and orchestra, a campaigning work from the period of Khrushchev's Thaw, setting poems by Yevtushenko condemning anti-Semitism and injustice.
Shostakovich worked closely with some of the greatest performers of his time. Evgeny Mravinsky premiered many of his orchestral works, and for the violinist David Oistrakh and the cellist Mstislav Rostropovich he wrote a pair of concertos each. His two piano concertos, more light-hearted pieces, were composed respectively for himself and for his son Maxim.
In his last years Shostakovich suffered unremitting ill-health and spent long periods in hospitals and sanatoria. The music of his final period, including his last two symphonies, his late quartets, his final vocal cycles and his Viola Sonata op.147 (1975), is spare and dark, reflective of much anguish. He died in Moscow on 9 August 1975.
Dmitri Shostakovich is published by Boosey & Hawkes
This biography can be reproduced free of charge in concert programmes with the following credit: Reprinted by kind permission of Gerard McBurney/Boosey & Hawkes