The Death of Klinghoffer
(1990)
Opera in two acts
Duration: 140'
Music Text
Libretto by Alice Goodman (E)
Scoring
S,M,C,T,3Bar,B; chorus(min:24 singers); dancers
2(I,II=picc).2(II=corA).2(II=bcl).2(II=dbn)-2.2.2.0-perc(1):KAT MIDI mallet controller/timp-2kbd samplers-harp-strings(8.8.6.6.4)
NOTE: The hiring of a sound designer is a condition/requirement for permission.
For complete technical specifications go to: mhgrey.wordpress.com
Abbreviations (PDF)
Opera
For full details on this stagework, including synopsis and roles, please visit our
Opera
section.
Publisher
Boosey & Hawkes (Hendon Music)
Territory
This work is available from Boosey & Hawkes for the world.
Availability
World Premiere
3/19/1991
Théâtre de la Monnaie, Brussels
Peter Sellars, director/Mark Morris, choregrapher / Théâtre de la Monnaie / Kent Nagano
Repertoire Note
The Death of Klinghoffer, John Adams's second opera, travelled widely in its 1991 premiere production by Peter Sellars, and was recorded by Nonesuch. Subsequent productions have included a staging by Tony Palmer for Finnish National Opera in 2001. The work effectively crosses boundaries between opera and oratorio, resulting in part from the influence of the Bach Passions. This ritualised quality has brought the work equal success in concert performance. Running through the opera is a series of choruses, which can be performed in concert in their own right.
Press Quotes
"A work that fires the heart... Adams creates a revolutionary, continually shifting tapestry."
-- Katrine Ames, Newsweek

"Here is what [The Death of Klinghoffer] does do: Explore the roots of a conflict that has shaped our era, demonstrate the common humanity of all those involved in it, condemn violence and shine a light on the everyday heroism of ordinary people ... The music in "Klinghoffer" varies from lyrical to edgy, mechanistic to ecstatic."
-- Sarah Bryan Miller, St. Louis Post-Dispatch

"The Death of Klinghoffer ripples, sways and flows, exerting a melancholy undertow ... the work deals openly with political and spiritual crises that are still very much a part of everyday life. … what the opera has to say is worth hearing…"
-- Steve Smith, The New York Times
Subjects
Recommended Recording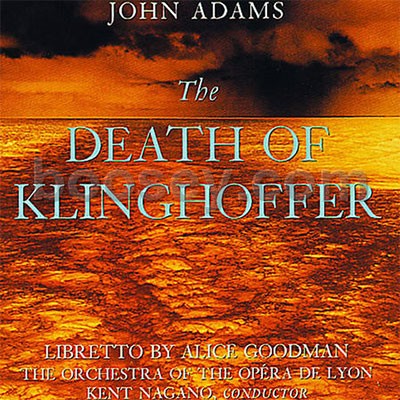 Sanford Sylvan / James Maddalena / Sheila Nadler /
The Orchestra of the Opéra de Lyon / Kent Nagano
Elektra / Nonesuch 7559-79281-2
Buy the MP3 album from Nonesuch
Christopher Maltman/Sanford Sylvan/Yvonne Howard/Tom Randle
London Symphony Orchestra and Chorus/John Adams, cond/Penny Woolcock, dir
Decca DVD Video 074 189-9
Links