for cello and orchestra
Duration: 18'
Scoring
2ob.2cl-hn-perc(1):SD/TD/BD-strings(max:12.10.8.6.4; min:8.6.4.3.1)
Abbreviations (PDF)
Publisher
Boosey & Hawkes
Territory
This work is available from Boosey & Hawkes for the world.
World Premiere
6/24/1992
Barbican
Mstislav Rostropovich, cello / London Symphony Orchestra / Hugh Wolff

Composer's Notes
The cello is my favourite musical instrument but, in writing this Concerto, I was above all inspired by my deep admiration for the great interpretative powers of Mstislav Rostropovich and my joy that he had asked me to write this work.
I am proud also that this is my third commission from the London Symphony Orchestra. This time I decided to limit the choice of instruments and to spotlight some of the principal instrumentalists while accommodating also the soloist's preference for a modest-sized orchestra (5 wind instruments, drums and strings).
As in my past works, a certain internalised vision of geometric proportions gave me the structure for the whole composition - this time the mandorla, the palindromic almond-shaped figure in the centre of two equal, overlapping circles, which I have often observed woven into the designs of ancient religious art and architecture. I was intriguedby the idea that each movement of the Concerto could be a palindrome within itself as well as a reflection of each other.
Andrzej Panufnik
For the diagram illustrating the construction of this work, see the programme note section on www.panufnik.com
Reproduction Rights
This programme note can be reproduced free of charge in concert programmes with a credit to the composer
Recommended Recording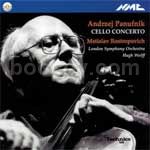 Mstislav Rostropovich/London Symphony Orchestra/Hugh Wolff
NMC D010S
External Links