Concertino
(1980, rev.1988)
for timpani, percussion and strings
Duration: 15'
Scoring
solo perc(2):timp/glsp/xyl/vib/t.bells/3tgl/3susp.cym/conga dr(sm) (tamburo picc)/conga dr(lg)(SD)/2tom-t(lg)(TD)/BD(sm)-strings
Abbreviations (PDF)
Publisher
Boosey & Hawkes
Territory
This work is available from Boosey & Hawkes for the world.
Availability
Composer's Notes
My Concertino for timpani, percussion and Strings was composed both as a concert piece and as a study/test work for the Shell-LSO Scholarship, percussion section. The work consists of five short, contrasting movements: Entrata - Canto I - lntermezzo - Canto ll - Fine.
In this work I wanted to take a fresh look at percussion and to emphasise especially the expressive, even the singing quality of the instruments: hence the title 'song' for two of the movements. Rather than presenting conventional technical challenges or producing a variety of new gimmicks, my intention was to compose a test of true musicianship: to demonstrate quality of sound, precision and above all an understanding of the musical content of the work, its poetic element. Regarding musical language, as in my previous works, I was trying to achieve clarity and a sense of order through a self-imposed discipline. Thus the Concertino is based on one four-note cell (fa, sol, si, do), introduced at the beginning of the work by the tubular chimes.
This cell, used both melodically and harmonically, emerges from time to time throughout the whole work to bring organic unity to the whole piece.

Note: for rehearsal purposes, and for coaching the young contestants in the LSO Scholarship I produced a version for percussion and piano (4 hands). For concert performance, I used an orchestra of strings only in order to give maximum prominence to the percussion solos.
Andrzej Panufnik
For the diagram illustrating the construction of this work, see the programme note section on www.panufnik.com
Reproduction Rights
This programme note can be reproduced free of charge in concert programmes with a credit to the composer
Recommended Recording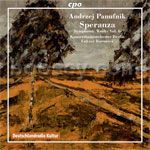 Michael Oberaigner/Christian Löffler/Konzerthausorchester Berlin/Lukasz Borowicz
CPO 777 685-2
Links