for orchestra
Duration: 15'
Scoring
3(III=picc).2.corA.2.bcl.2.dbn-4.3.3.1-timp.perc(2/3):glsp/xyl/t.bells/4unpitched membrane drums of different sizes-strings(14.12.10.8.6.min)
Abbreviations (PDF)
Publisher
Boosey & Hawkes
Territory
This work is available from Boosey & Hawkes for the world.
World Premiere
6/17/1979
Royal Festival Hall, London
London Symphony Orchestra

Composer's Notes
Concerto Festivo was commissioned by the London Symphony Orchestra for the 75th Anniversary of the orchestra, celebrated at a Gala Concert on 17 June 1979 at the Royal Festival Hall, London. That this invitation came from the members of the orchestra was for me the highest reward and honour that I could wish for as a composer.
My first idea was to write a Concerto with virtuoso solo passages for all the principals. However the LSO particularly wanted a short piece to fit programme planning, so I abandoned the idea of an extensive Concerto, and designed this work to show off the different sections of the orchestra.
Concerto Festivo consists of three movements. The first, Solenne (allegro), starting as a solemn announcement, is played by the brass instruments only. The second, Lirico (larghetto), is like a choral song, emphasising the warm, singing qualities, first of the strings, then the woodwinds, then again strings. The third movement, Giocoso (prestissimo) is a joyful, very fast movement played by the whole orchestra.
As in all my music of the last decade, the structure of my work has a hidden geometric design and its musical material is mainly based on a three-note cell, in spite of the deliberate light, celebratory character of this composition. With regard to the three basic elements in music, melody, rhythm and harmony, I have tried to produce a new sort of balance overall by concentrating attention on two of them at a time at the expense of the third. Thus in the first movement the music emphasises harmony and rhythm, the second harmony and melody, the third rhythm and melody. Believing that there is no reason why contemporary music should consist entirely of discords, I have aimed at producing a corresponding balance between consonance and dissonance. But beyond the construction and musical material, the most essential elements for me were spontaneity in Solenne, poetry in Lirico and vitality in Giocoso.
Using a system of cues, I composed this work to be performed, on this particular festive occasion, without a conductor. My idea of a conductorless piece is not a gimmick; it is my highest compliment to the superb virtuosity of the London Symphony Orchestra.
Andrzej Panufnik
Reproduction Rights
This programme note can be reproduced free of charge in concert programmes with a credit to the composer
Recommended Recording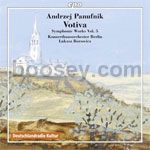 Konzerthausorchester Berlin/Lukasz Borowicz
CPO 777 684-2