Concerto in modo antico
(1951, rev.1955)
Concerto for trumpet and chamber orchestra
Duration: 15'
Scoring
solo tpt-timp-2harp(harp II ad lib)-hpd(ad lib)-strings
Abbreviations (PDF)
Publisher
Boosey & Hawkes
Territory
This work is available from Boosey & Hawkes for the world.
Composer's Notes


Early Polish music has remained quite unknown to the worldwide musical public in spite of the fact that there were many composers who wrote both ecclesiastical and secular works. Unfortunately, due to Poland's most tragic history with its numerous foreign invasions, little of this music survived, and virtually none is available for performance.


In my Concerto in modo antico I tried to fill this gap, and make use of fragments of vocal and instrumental work by 16th and 17th Century Polish composers, whose work I discovered during my research, I endeavoured to recreate as near as possible the true period style>- rather developing the themes


than 'modernising' them by distortion. Mymain intention was to bring alive the spirit of Poland at that time, and to make use of these precious fragments which otherwise would have remained lifeless on the bookshelves of libraries. Concerto in modo antico is in one continuous movement symmetrically built of seven contrasting sections: allegro giocoso - andante molto espressivo- zallegretto pastorale - andantino - allegro pesante _.andante molto cantabile allegro giocoso. It is scored for solo trumpet with strings, harp and timpani. A second harp may be used with advantage in sections I, 3, 5 and 7, playing in unison with the first harp. The harpsichord (under no circumstances to be replaced by piano) is similarly not obligatory, and may be used purely for colouristic purposes.
Subjects
Recommended Recording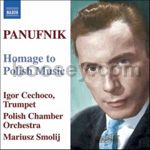 with Old Polish Suite / Jagiellonian Triptych / Divertimento for Strings / Hommage a Chopin

Igor Cecocho (trumpet) / Hanna Turonek (flute)
Polish Chamber Orchestra / Mariusz Smolij
Naxos 8 570032