Billy Budd (original 4-Act version)
op. 50
(1951)
Opera in four acts
Duration: 162'
Music Text
Libretto by E M Forster and Eric Crozier, adapted from the story by Herman Melville (E,G,I)
Scoring
Major roles: T,Bar,B; minor roles: 4T,7Bar,BBar,2B;
children's roles: 4Tr,boy speaker,boy actors; men's chorus
4(II,III,IV=picc).2.corA.3(II=Ebcl,bcl;III=bcl).asax.2.dbn-
4.4(III in D).3.1-timp(3).perc(6):xyl/glsp/tgl/wdbl/tamb/SD/TD/BD/
whip/cyms/small gong/4drums(on-stage)-harp-strings
Abbreviations (PDF)
Opera
For full details on this stagework, including synopsis and roles, please visit our
Opera
section.
Publisher
Boosey & Hawkes
Territory
This work is available from Boosey & Hawkes for the world.
Availability
World Premiere
12/1/1951
Royal Opera House, Covent Garden, London
Basil Coleman, director / Royal Opera Covent Garden / Benjamin Britten
Repertoire Note
Billy Budd was written during 1950-51 and first performed in December 1951 as part of that year's 'Festival of Britain' celebrations. In 1960, Britten revised the work, contracting the original four acts into two, in which form it is now generally performed (though the original version is now again available for performance). The work is based on Herman Melville's posthumous novel Billy Budd, Foretopman which Britten and his librettists (E.M.Forster and Eric Crozier) transformed into an opera of great musico-dramatic power and psychological subtlety. Although Billy is the opera's eponymous hero, the real focus of the work is the moral dilemma facing Captain Vere who, confronted with an agonising decision between saving Billy and his sense of duty as the ship's Captain is at the centre of the drama (a theme further explored by Britten in Gloriana).
Billy Budd employs the largest orchestra of any Britten opera, capable of unleashing an elemental power when the moment demands it, but in general, the orchestration favours the more sharply etched, transparent textures developed in the chamber operas.
Reproduced by kind permission of the Britten-Pears Library
Subjects
Recommended Recording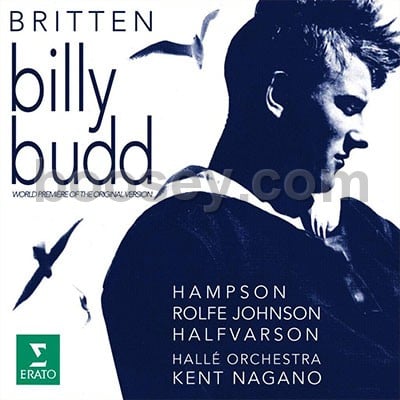 Thomas Hampson/Anthony Rolfe Johnson/Eric Halfvarson/Northern Voices/Halle Orchestra/Kent Nagano
Erato 3984-21631-2
Links