Prelude to a Canon - to be performed attacca as an introductory movement before Bach's Brandenburg Concerto No.6, BWV 1051
Duration: 12'
Scoring
2vla(soli).3vlc.1db-hpd
Abbreviations (PDF)
Publisher
Boosey & Hawkes / Bote & Bock
Territory
This work is available from Boosey & Hawkes for the world.
Availability
World Premiere
2/8/2018
Konserthuset, Örebro
Tabea Zimmermann & Brett Dean, viola / Swedish Chamber Orchestra / Thomas Dausgaard
Composer's Notes
Bach's works with two concertante soloists have a special place in the genre as being genuine "double" concerti. Many other fine double concerti in the repertoire such as Mozart's Sinfonia Concertante or Brahms' Double Concerto establish a more operatic, statement-and-response type dialogue between the two soloists. But for a few passages in running thirds or sixths, the soloists rarely play simultaneously very much of the time. In contrast, Bach's works for two soloists through their highly contrapuntal nature provide the soloists with individual parts that only reveal their completeness when played alongside their other soloistic counterpart.
Nowhere is this more apparent than in the tight canonic writing found in the 1st movement of Bach's extraordinary 6th Brandenburg Concerto where the two soloists hocket along, imitating or mirroring each other often at only an eighth-note's distance.
As part of the Swedish Chamber Orchestra's commissioning initiative to write works that reflect on the Brandenburg Concerti I feel compelled to address this concept of musical counterpoint, an aspect of composition that nowadays plays only a minor role in contemporary classical music, at least in Bachian terms. My piece is an attempt to construct an introductory work that segues directly into Brandenburg 6. In establishing two contrasting temperaments between the soloists, I wish ultimately to find a point of reconciliation between them that justifiably leads us into the particular type of close, contrapuntal companionship of voices inherent in Bach's original.
Recommended Recording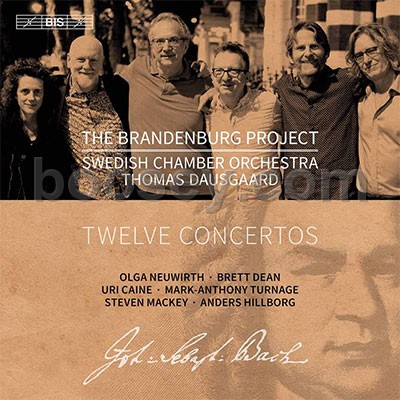 Tabea Zimmermann / Brett Dean /
Swedish Chamber Orchestra / Thomas Dausgaard
BIS 2199
Links