Prince of Players
(2014-16)
Chamber opera in 2 acts
Duration: 90'
Music Text
Carlisle Floyd (E)
Scoring
3S,3M,5T,Bar,2BBar,mimes; mixed chorus;
2(II=picc).2(II=corA).2(II=bcl).2(II=dbn)-2.2.0.0-timp.perc:SD/cym/TD/tamb/wdbl-harp-strings
Abbreviations (PDF)
Publisher
Boosey & Hawkes
Territory
This work is available from Boosey & Hawkes for the world.
Opera
For full details on this stagework, including synopsis and roles, please visit our Opera section.
World Premiere
3/5/2016
Wortham Theater Center, Houston, TX
Michael Gieleta, director / Houston Grand Opera / Patrick Summers

Press Quotes
"…it is the story of Edward Kynaston, one of the last men to play women's roles on the stage in Restoration England. Charles II's edict that female parts must henceforth be played by women means that the 26-year-old actor, once the toast of London, is not only out of work, but his whole being, including his sexuality, is called into question… The emotion of a man living the wrong life is carried in the autumnal, transparent orchestration, in which wistful woodwind solos evoke the protagonist's feminine world."
Wall Street Journal

"During Kynaston's transformative journey from artifice to realism, he goes from being Villiers, Duke of Buckingham's lover to becoming passionately involved with his former dresser Peg; and from the most celebrated 'female' actor of the era to performing in drag at a bawdy pub…"
Opera Now

"Prince of Players shows that Floyd still can champion the lyrical American opera aesthetic that he largely created… the score has evocative touches: the bustling, staccato woodwinds that describe the theater's backstage activity; the mournful, simple music for oboe and drum that accompanies a bit of King Lear; the ominous tones of Desdemona's death scene."
Classical Music Review

"Floyd's telling of the story has its eyes wide open to some cruelties beneath its exotic, period-piece exterior. Oppressive gender roles, rigid social prohibitions, and the arbitrariness and damaging consequences of absolute power all leave their scars on Kynaston, so that we are as much awakened to his condition as uplifted by his triumph… an intimate, moving performance."
Opera News
Subjects
Recommended Recording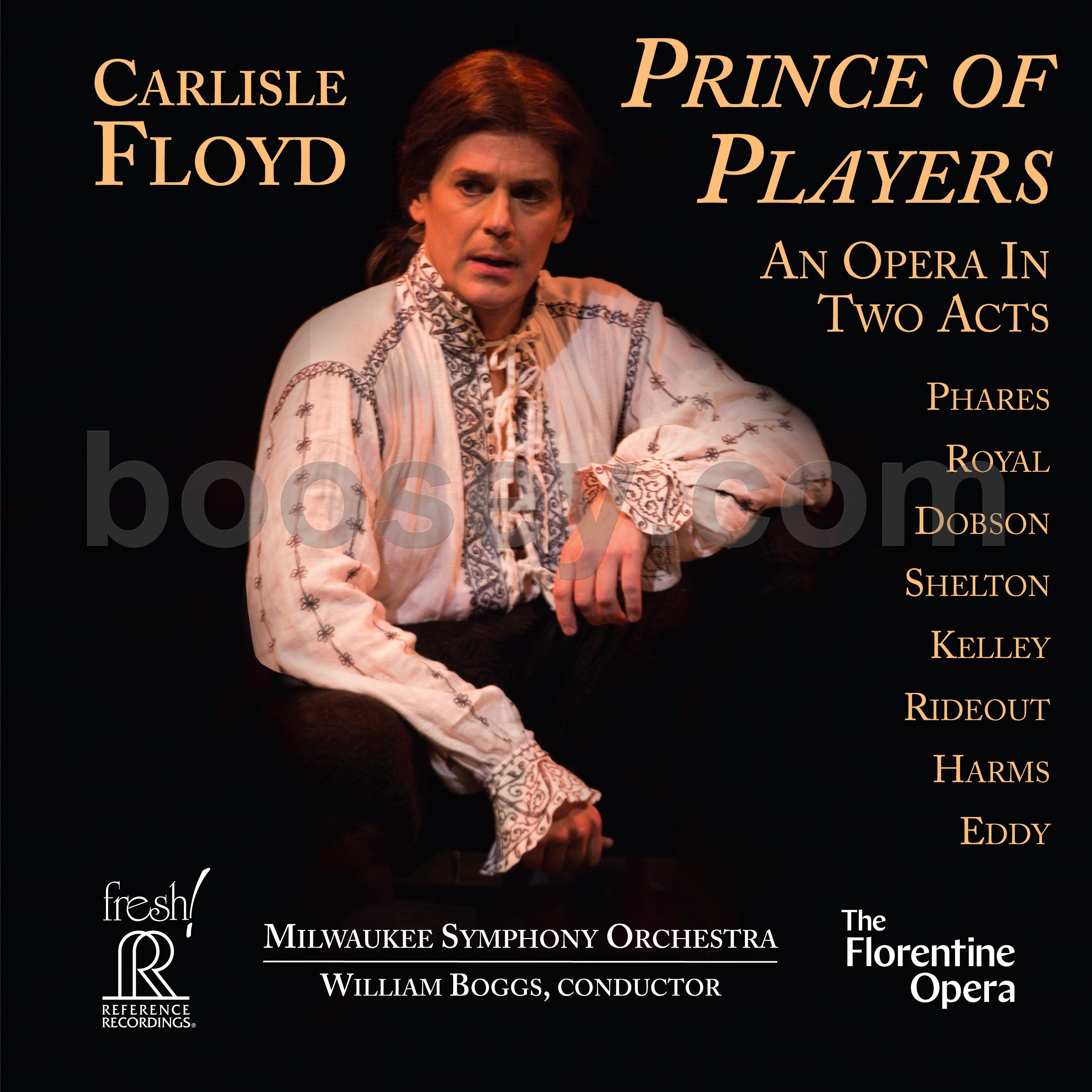 Prince of Players
The Florentine Opera
Milwaukee Symphony Orchestra / William Boggs
Reference Recordings
FR-736
Purchase the album from Presto Music.