for violin and orchestra
Duration: 22'
Scoring
2(II=picc).2(II=corA).2(II=bcl).2-4.2.3.1-timp.perc(3):chimes/SD/
chin.cyms/2susp.cyms/BD/bongo/tamb/wdbl/tgl/glsp/TD/field dr/
tam-t-cel-harp-strings
Abbreviations (PDF)
Publisher
Boosey & Hawkes (Hendon Music)
Territory
This work is available from Boosey & Hawkes for the world.
Availability
World Premiere
7/2/1992
Aspen, CO
Cho-Liang Lin, violin / Aspen Festival Orchestra / Leonard Slatkin
Composer's Notes
I completed my Violin Concerto on August 18, 1991 in Fairport, New York. This twenty-minute score was composed for Cho-Liang Lin via a commission from the Aspen Music Festival and funded in part by a grant from the National Endowment for the Arts.

I have long been drawn to the two-movement concerto form as exemplified by Bartok's Violin Concerto No. 1, and I resolved to structure my own concerto with a generally similar architecture. The opening movement is an elegiac barcarolle which begins with the soloist alone; gradually he is joined by other first desk string players from the orchestra until a string quartet has been formed. The "rocking motion" which typifies the barcarolle intensifies following the sudden entrance of the entire orchestra as the solo violin weaves an increasingly florid line over it. The movement's central section offers a contrast through a seemingly heightened metabolic rate (although the fundamental tempo remains unchanged), and it is followed by an extended passage for soloist and orchestral strings which gradually lowers the musical metabolism again before yielding to an altered recapitulation of material heard earlier in the movement. The movement concludes with a somewhat spectral passage featuring the soloist accompanied by timpani and plucked low strings, with occasional interjections from harp and celesta.

The second movement, a toccata, follows without pause and requires enormous virtuosity of the soloist. It is cast in a rondo form (A-B-A-C-A) and is characterized by a more colorful orchestration as well as by its often extremely quick tempi. Most of the important musical material is presented in the A sections, with the B and C sections furnishing variations upon it, the former being a rather fast, capricious waltz and the latter a breathlessly racing prestissimo. An interpolated reminiscence of the barcarolle delays the appearance of the final A section, and this in turn gives way to a perpetual motion cadenza which makes extraordinary demands upon the soloist's technique. A few bars of orchestral coda bring the concerto to a close.

As I was working on the piece, I became increasingly aware that it was conceived very much in the grand manner of romantic concerti from Brahms to Szymanowski and as a result felt little need to exploit various even mildly unusual performing techniques. The entire approach to the handling of the solo part was derived from this tradition, and even the notion of utilizing a musical manner drawn from gondolier songs (barcarolle) and virtuoso display music (toccata) seems "romantic" in retrospect. The language of the concerto is, of course, more dissonant than that found in nineteenth century counterparts, though there are areas of traditional tonality in my concerto, and an overall orientation of C minor (first movement) and D minor (second movement) is detectable. I also find this to be one of my more "objective" compositions, lacking as it does any stated or unstated program, though I hope that the use of a term such as "objective" will not lead the listener to conclude that my aim was an inexpressive one.

The concerto is dedicated to Cho-Liang Lin.

— Christopher Rouse

Reproduction Rights:
This program note may be reproduced free of charge in concert programs with a credit to the composer.
Recommended Recording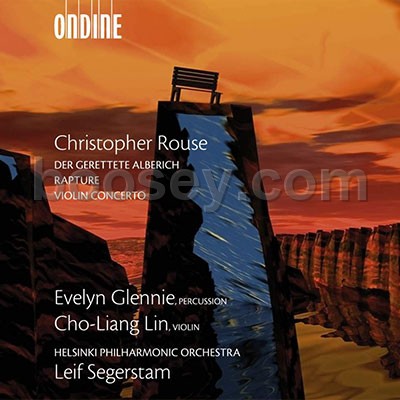 Cho-Liang Lin / Helsinki Philharmonic / Leif Segerstam
Ondine ODE 1016-2
Links