for solo clarinet and jazz ensemble
Duration: 11'
Scoring
2asax.2tsax.barsax.bcl-hn.5tpt.3trbn-pft-harp-guitar-perc-db
Abbreviations (PDF)
Publisher
Boosey & Hawkes
Territory
This work is available from Boosey & Hawkes for the USA and Canada only.
Availability
Repertoire Note
Composed for Woody Herman and his band, whose recordings of Bijou, Goosey Gander, and Caledonia Stravinsky especially admired, the vividly characterful Ebony Concerto – by turns bluesy and rambunctious -- is in Eric Walter White's opinion "the most ambitious and most successful of [Stravinsky's] various flirtations with jazz." Alexandre Tansman, upon observing Stravinsky simultaneously at work on the Ebony Concerto and Symphony in Three Movements, wrote: "It was with surprise as well as intense admiration that I saw the greatest composer of our age, and one of the greatest of all times, put himself to school like a student to study this new problem, trying to extract all the latent possibilities from this new combination of instruments, working away at it with the same conscientious concentration that he had applied a few months previously to his great Symphony."
Repertoire note by Joseph Horowitz
Inspired by and written for Woody Herman and his band, this vivacious clarinet concerto, written during Stravinsky's early years in America, evokes the spirit of jazz in Stravinsky own rhythmically charged manner. It will sit well in a programme of other jazz-inspired works of the 20th-century, such as Gershwin's An American in Paris, Milhaud's La Création du monde or the concert pieces of Bernstein. In similar ways, many recent composers have explored the sounds and instruments of jazz, including Birtwistle's Panic and Turnage's Your Rockaby.
Repertoire note by Jonathan Cross
Subjects
Recommended Recording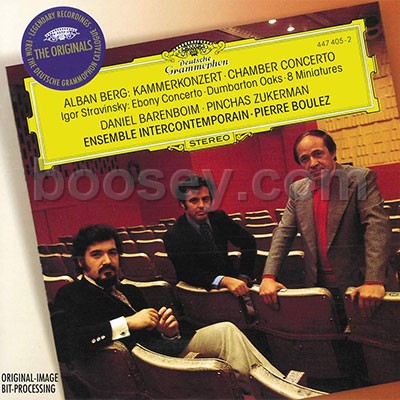 Michael Arrignon/Ensemble Intercontemporain/
Pierre Boulez
Deutsche Grammophon E4474052
Links