Octet for Wind Instruments
(1922-23,rev.1952)
Duration: 16'
Abbreviations (PDF)
Publisher
Boosey & Hawkes
Territory
This work is available from Boosey & Hawkes for the world.
Availability
Repertoire Note
Stravinsky: "The Octet began with a dream, in which I saw myself in a small room surrounded by a small group of instrumentalists playing some attractive music... I awoke from this little concert in a state of great delight and anticipation and the next morning began to compose." The result was a woodwind divertissement that equally exercises the listener's mind and the eight virtuoso performers. The first movement marks Stravinsky's rediscovery of sonata form. The second is the first of many Stravinsky variation sets to come. The quick finale yields a stately coda: cool, jazzy, syncopated. Aaron Copland attended the premiere in Paris and later wrote: "I can attest to the general feeling of mystification that followed the initial hearing. Here was Stravinsky ... now suddenly, without any seeming explanation, making an about-face and presenting a piece to the public that bore no conceivable resemblance to the individual style with which he had hitherto been identified... No one could possibly have foreseen ... that the Octet was destined to influence composers all over the world."
Repertoire note by Joseph Horowitz
The Octet is Stravinsky's glorious reinvention of the classical style in the shape of a divertissement for wind and brass instruments. The first movement is a sonata form, the second a set of variations, while the finale fizzes with a syncopated energy well-suited to the new 'jazz age'. The Octet should be in the repertoire of all wind ensembles and would happily sit alongside Mozart's Gran Partita or the octets of Mozart and Beethoven.
Repertoire note by Jonathan Cross
Recommended Recording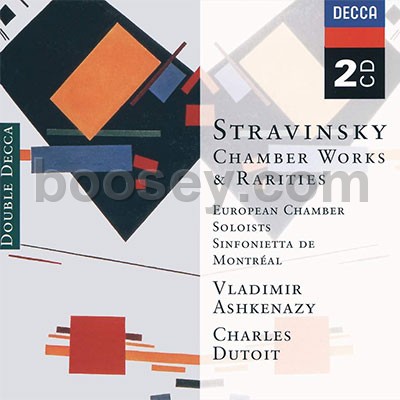 Sarah Burnett/Paul Lambert/Mario Schlumpberger/Andrea de Flammineis/
Rudi Mahni/Graham Lee/Lorna McGhee/Dimitri Ashkenazy
Decca (2CD) 4738102
Links