Piano Concerto No.2
(2003)
for piano and string orchestra
Duration: 30'
Scoring
Piano solo-strings: minimum 8.6.4.4.2
Abbreviations (PDF)
Publisher
Boosey & Hawkes
Territory
This work is available from Boosey & Hawkes for the world.
World Premiere
5/8/2004
Lincoln Center, New York, NY
New York City Ballet / Christopher Wheeldon, choreographer / Cameron Grant, piano / James MacMillan

Composer's Notes
1. cumnock fair
2. shambards
3. shamnation

My second piano concerto came about as a specially commissioned ballet score for New York City Ballet and was first performed there in May 2004. The English choreographer Christopher Wheeldon wanted to use an existing work of mine, Cumnock Fair, for dance, but it was not long enough. He asked me to create more music, so I added a central Adagio and a fast Finale.

cumnock fair's original title was 'Hoodicraw Peden' who was Scotland's seventeenth century talibanesque covenanting 'hero' referred to in Edwin Muir's excoriating poem 'Scotland 1941'. Peden was infamous for the crow's mask he used to wear as he went about his zealotry in Cumnock and elsewhere in south-west Scotland. I decided to revisit the Muir poem for inspiration for the two new movements.

cumnock fair is a twelve-minute fantasy based on dance melodies by the eighteenth century Cumnock composer John French, who was a friend of Robert Burns and James Boswell. The music covers a number of moods from the playful, the rustic, the archaic, the ungainly, the dreamy, the boisterous, the stately, the brutal and grotesque to the mysterious and unnerving.

shambards begins with the final fragment of the previous movement, now presented in a momentarily mournful context. Memories of Burnsian folksong inform much of the melodic drift, but it is interrupted by new dance tunes. These are built on brief fragments from the Mad Scene from Act 3 of Lucia di Lammermoor by Donizetti, based on the novel by Walter Scott. The central section develops some of the lyrical 'celtic' material before a developed recapitulation of the opening materials. The piano's final desolate pulse provides the material for:

shamnation. The piano's low throbbing now becomes a drumbeat to accompany a fast violin reel. This follows a traditional 8-bar structure and is made up of three tunes, in B minor, D major, and A major. The solo piano part emerges as a counterpoint to the Scottish themes before the music winds its way through many different keys. Gradually a number of uneasy undercurrents begin to emerge, before the reel is cut short, suddenly and dramatically, by an ardent and over-ripe cadenza recalling the first two movements. The reel is momentarily re-established before the music drifts, first in a haze, then in a frenzy of clusters before an abrupt halt.

'Shambards' and 'Shamnation' are made-up words based on the above-mentioned poem by Edwin Muir, to whose memory the work is dedicated.

James MacMillan

Reproduction Rights
This programme note can be reproduced free of charge in concert programmes with a credit to the composer.
Press Quotes
"This is a work of fierce physicality: a half-hour's frenzy of folk-song and dance… The first movement, cumnock fair, is a whirling fantasy of 18th-century Scottish dance melodies… shambards, the second movement is a dizzying hall of mirrors: Burnsian folk-song and fragments of the Mad Scene from Lucia di Lammermoor drift in and out of focus… shamnation sounds like a devilish Strathspey Society on speed. For sheer visceral excitement… this half-romp, half-tantrum of a work is hot stuff."
The Times

Recommended Recording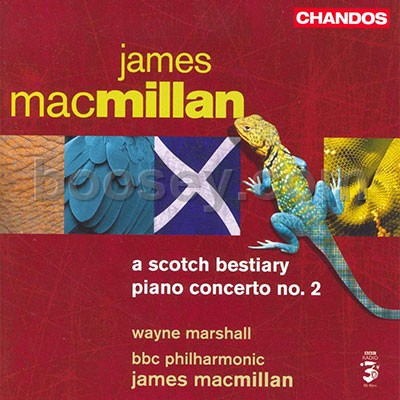 Wayne Marshall / BBC Philharmonic / James MacMillan
Chandos CHAN 10377