Voices of Remembrance
(2014)
for chorus, orchestra and optional narrator(s)
Duration: 45'
Scoring
1.1.1.bcl.1-2.2.1.btrbn.0-timp.perc(3):t.bells/SD/hi-hat/susp.cym/tom-t/bell-tree/tgl/glsp/vib-cel-pft-gtr-strings
NB: duration is 45 minutes with readings and 33 minutes without.
Movements:
Break of Day in the Trenches by Isaac Rosenberg
Break of Day in the Trenches (orchestral)
The Soldier poem by Rupert Brooke (orchestral/ choral)
Into Battle by Julian Grenfell
Into Battle (orchestral)
Before Action by William Noel Hodgson
Before Action (orchestral)
A Lark above the Trenches poem by John William Streets (orchestral/ choral)
Dulce et Decorum est by Wilfred Owen
Dulce et Decorum est (orchestral/ choral)
Anthem for Doomed Youth by Wilfred Owen
Anthem for Doomed Youth (orchestral)
In Memoriam by Ewart Alan Mackintosh
In Memoriam (orchestral)
In Flanders Fields by John McCrae
In Flanders Fields (orchestral)
For the Fallen poem by Robert Binyon (orchestral/ choral)
Abbreviations (PDF)
Publisher
Boosey & Hawkes
Territory
This work is available from Boosey & Hawkes for the world.
Availability
Repertoire Note
Music inspired by 10 famous WW1 poems, commemorating and remembering the soldiers who lived, fought and died in the First World War.

Through her experience creating a new score for the IWM 1916 film The Battle of the Somme and her extensive research on World War One, Laura Rossi has created a richly evocative work that combines her stunningly emotive music with these important historical poems. The work can be performed with readings of the poems, moving us closer to the thoughts and feelings of the soldiers: their spirit, their strength, their hopes and fears.

The composer's researches led her to the diaries of her uncle Fred who was a stretcher bearer at The Battle of the Somme. She describes how "reading his diaries and remembering his voice made the connection to that time so much more vivid and had a profound effect on me. I wanted to go deeper into the feelings and emotions that the personal connection to the battle, the soldiers, and remembering my uncle brought to me. Music and poetry have a unique way of helping us to get closer to the thoughts and feelings of the soldiers. The voices, the words reach out to us from behind the grainy black and white images from so long ago."



Subjects
Recommended Recording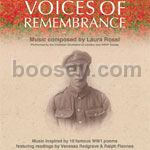 Links