for solo voice, solo violin and ensemble
Duration: 31'
Music Text
Dino Campana (I)
Scoring
3(II,III=picc).2.2bcl(II=dbcl).0-2.2.flugelhn.2.0-perc(2):glsp/marimba/vib/3lge wdbl/gong/lge ratchet/
susp.cym/2lge cyms/tam-t/xyl/cast/BD/long lge guiro/car spring/2sm tom-t-2pft-synth-cimbalom-
elec.gtr-elec.bass gtr-vlns(div.in 3)
Both soloists and ensemble should be amplified by means of close miking. Both soloists need individual monitors
Abbreviations (PDF)
Publisher
Boosey & Hawkes
Territory
This work is available from Boosey & Hawkes for the world.
Availability
World Premiere
10/6/2002
Queen Elizabeth Hall, London
Cristina Zavalloni, voice/Monica Germino, violin / London Sinfonietta / Oliver Knussen CBE
Composer's Notes
It was the Italian singer Cristina Zavalloni who first introduced me to the impressive Canti Orfici (Orphic Songs) by the poet Dino Campana (1885 – 1932). I had already composed Passeggiata in tram in America e ritorno for her, in which the singer is accompanied by a concertante violin part of "trembling violin with electric strings" and a brass ensemble. I found the combination of Cristina's voice and the violin sound so rich that I decided to compose La Passione based on the text of Campana's Canti Orfici, as a double concerto for her and Monica Germino, the violinist who had played in Passeggiata.
Dino Campana published his Canti Orfici in 1914. Throughout his life, his existence was dominated by a troubled spiritual condition. After a 5-week stay in a psychiatric hospital in Imola, his father sent him to recuperate in Argentina. However, on his wartime journey back to Italy, the poet was arrested at the Belgian–French border and taken to a psychiatric hospital in Tournai, Flanders. The text to the last song of La Passione, 'il Russo', is set in the landscape of Flanders. Nine years later, in 1918, Campana was officially declared mentally ill and he spent the last 14 years of his life in a clinic in Castel Pulci, near Florence.
Most of the Canti Orfici are poems in prose. The images are fantastic, sometimes gruesome, unpredictable collages of perhaps futuristic dreams. For La Passione I chose six fragments from different texts, except song No. 2 'La sera di fiera' for which I used the complete poem. The work flows as a one-movement 26 minute piece, but formally it is structured as an introduction followed by a series of six songs. Campana's Passion, as it is reflected in his surrealist poetry, was the main inspiration for the musical language of the composition.
Louis Andriessen
Reproduction Rights
This programme note can be reproduced free of charge in concert programmes with a credit to the composer
Recommended Recording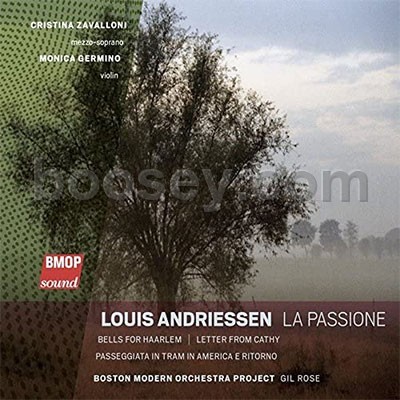 Cristina Zavalloni/Monica Germino/Boston Modern Orchestra Project
BMOP/sound 1011
Buy the CD from Amazon
News stories for this title:
Links