The Love for Three Oranges
op. 33
(1919)
Opera in four acts and a prologue
Duration: 110'
Music Text
Libretto by the composer, from Vsevolod Meyerhold's adaptation of a play by Carlo Gozzi (R,E,F,G)
Scoring
Major roles: S,A,2T,2Bar,2B
minor roles: 2M,S,A,T,3B; chorus; ballet
2.picc.2.corA.3(II=Ebcl,III=bcl).3(III=dbn)-6.3.3.1-timp.perc:BD/cyms/tgl/t.mil/tam-t/chimes/xyl-2harp-strings;
Reduced orchestration by Philipp Haag (2020): 2(II=picc).2(II=corA).2(II=Ebcl,bcl).2(II=dbn)-4.2.3.1-timp.perc(2):I=BD/cym/tgl/tam-t; II=glsp/xyl/SD/BD/cym-harp-strings
Abbreviations (PDF)
Publisher
Boosey & Hawkes
Territory
This work is available from Boosey & Hawkes for the world.
Opera
For full details on this stagework, including synopsis and roles, please visit our Opera section.
World Premiere
12/30/1921
Auditorium Theatre, Chicago, IL
Jacques Coini, director / Civic Opera Company / Serge Prokofieff

Repertoire Note
Prokofieff's encounter in 1916 with the theatre director Vsevolod Meyerhold proved crucial to the genesis of his most popular and in many ways most characteristic opera. Meyerhold's pursuit of an anti-realistic theatre of action using speech rhythms chimed with Prokofieff's operatic experiments in The Gambler, and Meyerhold's adaptation of Gozzi's surrealist and fantasy-filled play inspired the composer to his greatest fusion of magic, comedy and satire. The Love for Three Oranges operates on multiple levels - whether as a play within a play, as a witty critique of operatic tradition, or as a dialectic between historical commedia dell'arte and modern political commentary - and this has attracted many of the world's leading directors and designers to stage the work. Most refreshing of all, however, is the composer's miraculous aural imagination, achieving the near impossible fusion of childlike simplicity and mature sophistication, guaranteeing this opera's continuing universal appeal.
Subjects
Recommended Recording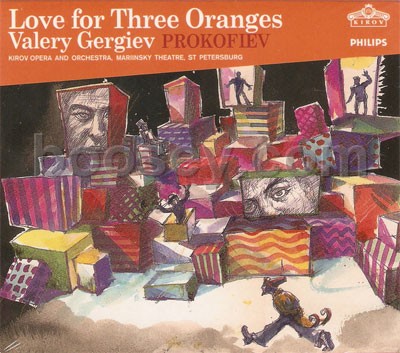 Mikhail Kit/Evgeny Akimov/Larissa Diadkova/Alexander Morozov/Kirov Opera/Valery Gergiev
Philips 462 913-2 (2 CDs)