La finta giardiniera per Amore
(Die Gärtnerin aus Liebe)
(1774)
Opera buffa, new edition by René Jacobs & Clemens Flick
Duration: 180'
Music Text
Libretto by Giuseppe Petrosellini (?); German version by J. F. J. Stierle (I,G)
Scoring
3S,A,2T,Bar; 2.2.2.2.-2.2.0.0.-timp-strings
Abbreviations (PDF)
Opera
For full details on this stagework, including synopsis and roles, please visit our
Opera
section.
Publisher
Boosey & Hawkes / Bote & Bock
Territory
This work is available from Boosey & Hawkes for the world.
World premiere of version
3/10/1796
Patriotic Theatre 'U Hybernu', Prague
.
Repertoire Note
The edition of Mozart's La finta giardiniera by René Jacobs and Clemens Flick is the first edition of the little-known "Prague Version." It was first performed after Mozart's death: on 17 March 1796 in the "Vaterländische Theater" of his favorite city of Prague. The completely new arrangement is preserved in two copyist's manuscripts. The original instrumentation was expanded in almost all the numbers, and a majority of the numbers abridged.
With its richer instrumentation, the brilliant and fanciful Prague version strikes the spirit of Mozart's later Da Ponte operas, and above all lets the woodwinds come unrestrainedly to the fore. Even though the arranger is unknown, the Prague version probably stems from the circle of Prague musicians who were very familiar with Mozart's musical language. In 1796 the original instrumentation of Finta giardiniera was considered outdated. The Prague arranger therefore attempted to adapt the score for a "modern" Mozart orchestra: by means of additional wind parts, filling out of the string parts, and cuts. In terms of composition, too, the Prague re-orchestration moves on a higher level. The arranger – possibly the conductor Johann Baptist Kucharž – matched the existing instrumental parts to the possibilities and the tonal character of a very virtuoso late eighteenth-century orchestra. He extended Mozart's accompaniment motifs and contrasted them with newly invented motifs.
In their new edition, René Jacobs and Clemens Flick integrated the parts cut from the "Prague Version" and adapted them to the particularities of the instrumentation. In this way, Mozart's early work can be performed in its original formal guise, but with the advantages of the extended orchestration.
Subjects
Recommended Recording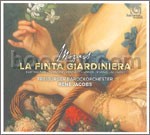 Sophie Karthäuser, soprano (Sandrina) / Jeremy Ovenden, tenor (Contino Belfiore) / Alex Penda, soprano (Arminda) / Marie-Claude Chappuis, mezzo-soprano (Ramiro) / Nicolas Rivenq, baritone (Podestà) / Sunhae Im, soprano (Serpetta) / Michael Nagy, bass-baritone (Roberto) / Freiburger Barockorchester / René Jacobs
HMC 902126.28