La finta giardiniera per Amore
(Die Gärtnerin aus Liebe)
(1774)
Opera buffa, new edition by René Jacobs & Clemens Flick
Duration: 180'
Music Text
Libretto von Giuseppe Petrosellini (?); dt. Fassung von J. F. J. Stierle (ital., dt.)
Scoring
3S,A,2T,Bar; 2.2.2.2.-2.2.0.0.-timp-strings
Abbreviations (PDF)
Publisher
Boosey & Hawkes / Bote & Bock
Territory
This work is available from Boosey & Hawkes in der ganzen Welt.
Opera
For full details on this stagework, including synopsis and roles, please visit our Opera section.
World premiere of version
3/10/1796
Patriotic Theatre 'U Hybernu', Prague
.

Repertoire Note
Die Edition von Mozarts La finta giardiniera durch René Jacobs und Clemens Flick ist die erste Ausgabe der wenig bekannten "Prager Fassung". Sie wurde erst nach Mozarts Tod aufgeführt: am 17. März 1796 im "Vaterländischen Theater" seiner Lieblingsstadt Prag. Diese völlig neue Bearbeitung ist in zwei Abschriften überliefert. In fast allen Nummern wurde die originale Instrumentation erweitert und ein Großteil der Nummern gekürzt.
Die brillante und fantasievolle Prager Version trifft mit ihrer reichen Instrumentierung ganz den Geist der späten Da-Ponte-Opern Mozarts und lässt vor allem die Holzbläser "emanzipatorisch" hervortreten. Wenn auch der Bearbeiter unbekannt ist, so stammt er wohl aus dem Kreis der Prager Musiker, die mit Mozarts Musiksprache sehr vertraut waren. 1796 galt die ursprüngliche Instrumentierung der Finta giardiniera bereits als veraltet. Der Prager Bearbeiter versuchte daher, die Partitur für ein "modernes" Mozartorchester einzurichten: durch zusätzliche Bläserstimmen, Auffüllung der Streicherstimmen und Kürzungen. Auch kompositorisch bewegt sich die Prager Neuinstrumentierung auf hohem Niveau. Der Bearbeiter – möglicherweise der Kapellmeister Johann-Baptist Kucharž – hat die vorhandenen Instrumentalstimmen auf die Möglichkeiten und den Klangcharakter eines sehr virtuosen Orchesters des späten 18. Jahrhunderts abgestimmt. Er spinnt Mozarts Begleitmotive weiter und "kontrapunktiert" sie mit neu erfundenen.
In ihrer Neuedition haben René Jacobs und Clemens Flick auch die in der "Prager Fassung" gestrichenen Teile integriert und sie an die instrumentatorischen Besonderheiten angepasst. So lässt sich Mozarts Jugendwerk wieder in seiner ursprünglichen formalen Gestalt, aber mit den Vorzügen der erweiterten Orchestrierung aufführen.
Subjects
Recommended Recording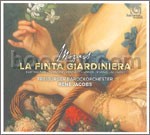 Sophie Karthäuser, soprano (Sandrina) / Jeremy Ovenden, tenor (Contino Belfiore) / Alex Penda, soprano (Arminda) / Marie-Claude Chappuis, mezzo-soprano (Ramiro) / Nicolas Rivenq, baritone (Podestà) / Sunhae Im, soprano (Serpetta) / Michael Nagy, bass-baritone (Roberto) / Freiburger Barockorchester / René Jacobs
HMC 902126.28