Anna Clyne and Enrico Chapela featured in Chicago as Riccardo Muti takes the helm
(September 2010)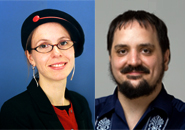 Clyne begins two-season residency with the CSO: curation, collaboration, composition, and outreach

Chapela's Li Po performed as part of México 2010 festivities
Anna Clyne and Enrico Chapela , the two newest additions to the Boosey & Hawkes composer roster, are featured prominently at the start of Riccardo Muti's tenure as Music Director with the Chicago Symphony Orchestra (CSO). Clyne, who Muti appointed as a Mead Composer-in-Residence with the CSO, commences her time in Chicago by co-curating the first concert of the season on the MusicNOW series. The concert, led by Principal Conductor Cliff Colnot at the Harris Theater for Music and Dance on October 4 at 7:00 PM, includes Clyne's steelworks (2006) along with Enrico Chapela's Li Po (2008/09).

steelworks is a 15-minute piece written for flute, bass clarinet, percussion, and a tape part that incorporates interviews with employees at Flame Cut Steel in Brooklyn, NY, along with the sounds of clunking industrial machinery. Commissioned by TACTUS, the Manhattan School of Music's contemporary music ensemble, the original performance in New York included live visuals created by Luke DuBois. The MusicNOW performance will include these visuals which incorporate old footage from the steel trade.

The first work the CSO will take up from Clyne is <<rewind<<, a piece that has been performed by the Minnesota Orchestra and the American Composers Orchestra, the BBC Concert Orchestra, and the Cabrillo Festival Orchestra since its 2005 world premiere in New York City. Clyne continues her CSO residency by co-programming the MusicNOW concerts with fellow Mead Composer-in-Residence Mason Bates, developing collaborations with artists across other disciplines within the Chicago area, and involvement in a program working with incarcerated youth. Clyne has also been commissioned to write two new pieces—one for MusicNOW to premiere March 2011 and a new orchestral work to premiere in the 2011-12 season.

Enrico Chapela's Li Po , based on an eponymous poem by the Mexican poet José Juan Tablada, is a 10-minute work for chamber orchestra structured upon spectral analysis of the poem. In Chicago, it is presented on the October 4 MusicNOW concert in honor of the citywide México 2010 festivities. Commissioned by the Los Angeles Philharmonic for a world premiere in 2009, Li Po will also be performed in February 2011 by conductor Joana Carneiro and the St. Paul Chamber Orchestra.

Chapela has recently turned to México's National Institute of Genomic Medicine for inspiration. Both Genómica Mestiza, which received a world premiere in Mexico City on September 3 by conductor Alondra De la Parra and the Philharmonic Orchestra of the Americas, as well as Private Alleles, which will be premiered by conductor Joana Carneiro and the Berkeley Symphony Orchestra on December 2, 2010, are written to commemorate 200 years of Mexican independent life based on research from the Mexican Genome Diversity Project. Looking ahead to April, another new piece from Chapela, Nanobots, will be premiered in the UK by the Britten Sinfonia in two concerts April 12 and 13.

Click here for a score sample of Anna Clyne's steelworks.
Click here for a score sample of Enrico Chapela's Li Po.
Photo Credit: Anna Clyne - Denise Anderson | Enrico Chapela - Bernd Uhlig

Boosey & Hawkes Composer News