Birtwistle, Maxwell Davies and Schnittke 90ths in 2024
(September 2023)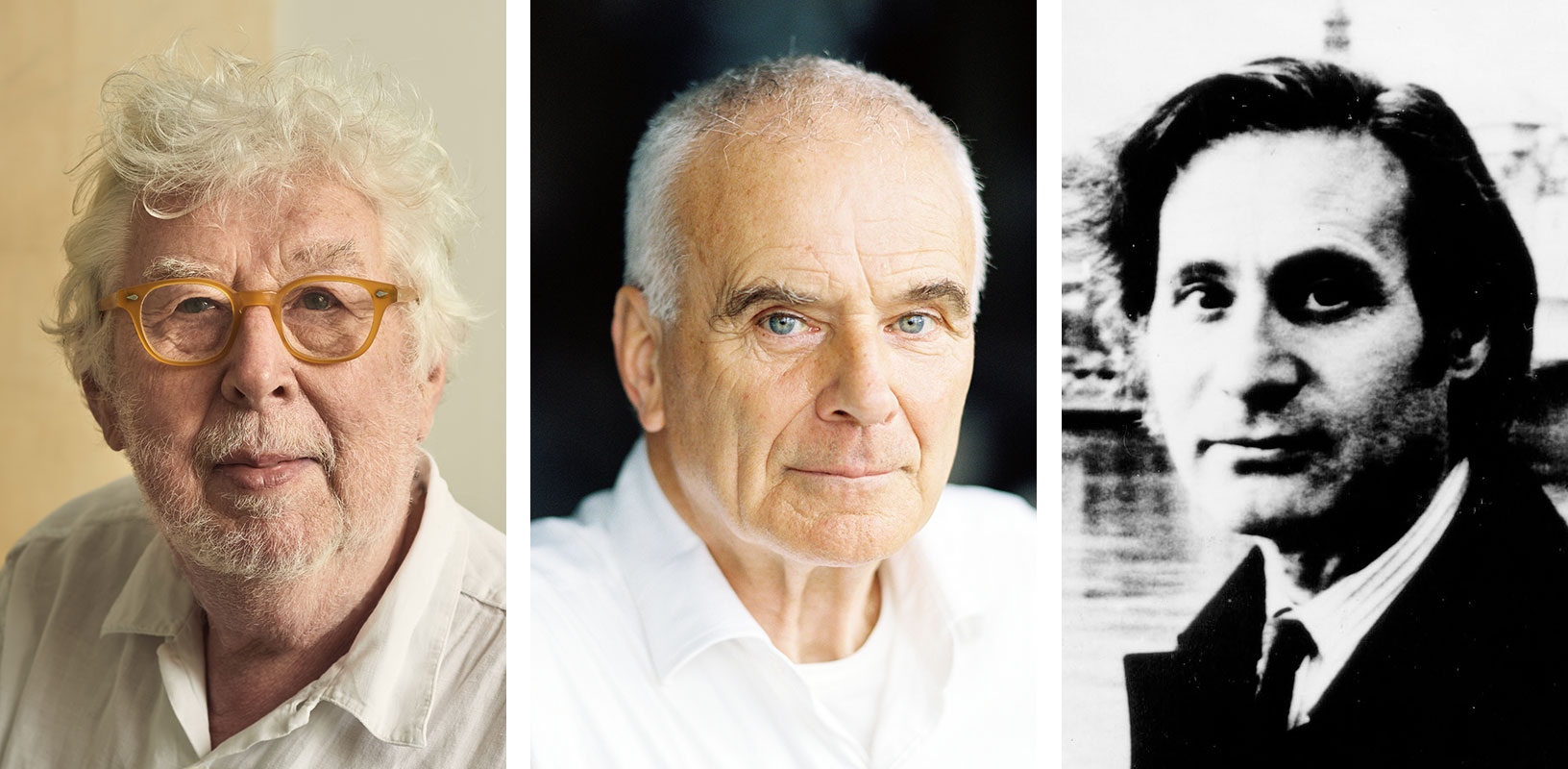 The 90th anniversaries of birth of three late-20th century masters are celebrated in 2024: Harrison Birtwistle (15 July), Peter Maxwell Davies (8 September) and Alfred Schnittke (24 November).
2024 brings the 90th anniversary of birth celebrations for three major figures of modern music, Harrison Birtwistle, Peter Maxwell Davies and Alfred Schnittke. All three were born in 1934, with 'Harry' and 'Max' both studying at the Royal Manchester College of Music in the 1950s and together forming the Pierrot Players before treading separate paths. The composing career trajectories of the two British composers has often been related to Aesop's fable with Birtwistle as the tortoise eventually overtaking Maxwell Davies as the hare. However, in overview, their contributions to cultural life can be seen as a combined cumulative force: breaking from tradition, developing new models for music theatre and performing ensembles, and helping position the UK as a new centre for contemporary music. Schnittke similarly absorbed European new music trends to break barriers, becoming the leading Soviet composer after Shostakovich. He also drew upon his diverse cultural roots to forge a polystylistic aesthetic that helped define musical post-modernism in the final decades of the 20th century.
Harrison Birtwistle (1934-2022)
Harrison Birtwistle is internationally regarded as one of the most striking and individual composers in classical contemporary music. His soundworld runs the full gamut from large-scale operatic and orchestral canvases such as The Minotaur and Deep Time, rich in mythical and primitivist power, to intimate chamber works, contemplative in their lyricism. His pioneering works for the London Sinfonietta helped establish the contemporary music ensemble format as a focus of creativity for composers and audiences internationally. Central artistic themes sprang from his observations of cyclical forms in nature, the imaginary inner landscape, and the viewing of an object from multiple perspectives. His influence runs deep in a younger generation of composers, particularly his extracting of the essence of poetry and art to create new musical worlds.
The Nash Ensemble is presenting A Celebration of the Life and Music of Sir Harrison Birtwistle at the Wigmore Hall in London on 26 March 2024. The three concerts include The Moth Requiem and Fantasia upon all the notes together with chamber commissions. The Nash Ensemble is joined by soprano Claire Booth, the BBC Singers, conductor Geoffrey Paterson and students from the Royal Academy of Music.
> Visit our introductory guide to Birtwistle's music.
Peter Maxwell Davies (1934-2016)
Rising to prominence in the 1960s and '70s 'Max' (as he universally became known) was at the vanguard of contemporary music in the UK, embracing international influences at a time when new British music was considered to be parochial and insular. His music theatre works defined a new genre, cutting edge in subject matter and soundworld, and suitable for touring by small groups of skilled specialist musicians. In the 1970s he became an adoptive Scot, living in the Orkneys, and readily embracing aspects of the local culture. As conductor he toured his music with The Fires of London, the Scottish Chamber Orchestra and BBC Philharmonic, and was an enthusiastic teacher of and advocate for other composers at the Dartington Summer School, the St Magnus Festival and beyond. His final decades before his death saw him turn his inquisitive gaze on symphonies, concertos, string quartets and choral music, learning from the classical masters and reinterpreting each form for the modern age.
The Scottish Chamber Orchestra has announced performances of the composer's ever-popular An Orkney Wedding, with Sunrise in March 2024 and his late period concert overture Ebb of Winter in April 2024.
> Visit our introductory guide to Maxwell Davies's music.
Alfred Schnittke (1934-1998)
Although Alfred Schnittke was lionized as the successor to Dmitri Shostakovich, he always felt himself set apart from other Soviet era composers. This was due to his mixed heritage, with his mother's Volga German and Roman Catholic extraction, his father's German-Jewish roots, and his formative years living in Vienna surrounded by Austro-German culture. Fired by the rebellious modernism prevailing in Moscow in the early 1960s, Schnittke embarked on a voyage of compositional discovery, combining Soviet symphonic thought with parody and experimentation. Together with Denisov and Gubaidulina he proved inspirational both for a younger generation of composers and for leading performers such as Mstislav Rostropovich and Gidon Kremer. His output ranges widely from vividly expressionist operas such as Life with an Idiot and The History of D. Johann Faust, through a cycle of eight symphonies, to numerous chamber works. Towards the end of his creative life his preoccupations progressively shifted from playful and satirical elements to spiritual and contemplative themes.
Plans are underway for Schnittke festival features and opera stagings in autumn 2024 around the birthday.
> Read Gerard McBurney's new introduction to Schnittke's music.
If you are planning 90th birthday performances of Birtwistle, Maxwell Davies or Schnittke please contact our Promotion team on [email protected] so we can add them to our online calendar.
Photos by Philip Gatward, Martin Lengemann, Sikorski

Boosey & Hawkes Composer News