Christopher Rouse's Prospero's Rooms to Receive World Premiere
(April 2013)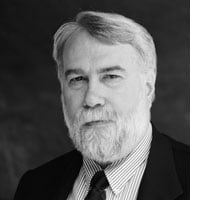 New York Philharmonic premieres new work in New York followed by international tour
Alan Gilbert leads the New York Philharmonic in the world premiere of Christopher Rouse's new orchestral work Prospero's Rooms, taking place Wednesday, April 17 (with additional performances April 18, 19, & 20) at Avery Fisher Hall in New York. The Philharmonic takes this work on a European tour from May 2–17 that includes stops in Turkey, Switzerland, Germany, and Austria.

Inspired by Edgar Allan Poe's short story The Masque of the Red Death and Leonid Andreyev's play The Black Maskers, Rouse explains the story behind Prospero's Rooms: "The story concerns a vain Prince, Prospero, who summons his friends to his palace and locks them in so that they will remain safe from the Red Death, a plague that is ravaging the countryside. He commands that there be a ball—the "masque"—but that no one is to wear red. But of course a figure clad all in red does appear; it is the red death, and it claims the lives of all in the castle. Central to the story is the castle's series of seven conjoined rooms, each furnished entirely in a single color and with a Gothic stained glass window of the same color. First is the blue room, followed by the purple, the green, the orange, the white, and the violet rooms. Last, buried in the deepest recess of the castle, is the black room. Only here is the window of a different color—it is crimson red. In the corner is an enormous ebony clock whose mournful tone so disquiets the visitors that they freeze, terrified, whenever it tolls. It is in this room, of course, that Prince Prospero meets his end at the hands of the Red Death."

As he continues his appointment as Composer-in-Residence at the New York Philharmonic during the 2012–13 season, Christopher Rouse has helped develop and program the Philharmonic's new music series CONTACT! and has also had multiple performances of his works programmed with the Philharmonic this season. The New York Philharmonic will bring Rouse's mammoth Requiem to Carnegie Hall in 2014, participating in the Spring for Music Festival.

> Click here to watch Christopher Rouse discuss Prospero's Rooms.
> Further information on Work: Prospero's Rooms
Photo: Jeffrey Herman

Boosey & Hawkes Composer News