Elena Kats-Chernin: interview with a cosmopolitan composer
(November 2007)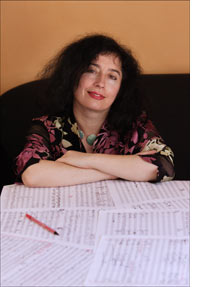 Elena Kats-Chernin discusses her musical influences and interests. Her new basset clarinet concerto, Ornamental Air, is performed in the USA, Europe and Australia by Michael Collins in 2008.



You grew up in Uzbekistan, studied in Moscow and Germany, and settled in Australia. How do these cosmopolitan ingredients come together in your music?

If forced to generalise about the influences on my music I'd say that my Russian background provided the strong rhythmic features, the strange mixture of lightheartedness and heavy melancholy, the bright orchestra colours, a sense of contrast and a tendency towards high energy. The early years of my initial stay in Australia (1975-80), fresh out of Moscow, added the excitement of new experimental sounds and much freedom in the structuring of the pieces. Then the years of study and work in Germany focused me upon the serious nature of the psychology of music, specifically in the theatre. Upon my return to Sydney in 1994 a lot of the above merged into a language.

You're equally at home composing for dance and theatre as for the concert hall. Has this versatility come about through chance or design?

Each genre provides its own opportunities for learning. I have never planned the way my career would work - it has happened mostly by chance and step by step. I've always enjoyed the rehearsal process in the theatre where there are often long phases of making changes to sounds, when the relationship between music and theatre is in constant flux. That experience has in turn helped me when composing music for the concert hall - I can make quick decisions with regards to form or instrumentation. One of the things I have learnt is to be un-precious about my music. I can happily throw away huge chunks of material if it does not seem exciting enough for me.

Your music ranges widely in style from piano rags to the complex textures of Clocks. Are you more interested in reflecting the world around you than creating a private style?

I am too interested in people not to pursue that human connection. I constantly need to invent a way to make that connection translate into a piece of music. For me that is the ultimate aim in composing. It is not about describing the world, it is about describing what I think the world is in relation to something other: a person, an event, a thought, an idea or sometimes just a sentence. That relationship can be complex or simple and it will influence the way the piece will turn out. This, of course, meshes with the initial commissioning parameters like instrumentation, proposed duration, etc, which also play a role in the unfolding of the composition.

What draws choreographers to your music?

Maybe it's the fact that my music has clear rhythmic qualities and is not too descriptive or overly developed – it leaves breathing space for the dance element. I in turn really get a buzz out of working with choreographers and a perfect example of this was collaborating with Meryl Tankard on the ballet Wild Swans, based on the fairy story of Hans Christian Andersen, made for Australian Ballet. I improvised on the piano to the dancers' movements and most of the music for the ballet was created directly in the rehearsal space. The final length of the score for orchestra and soprano was about 90 minutes.

How do you react when your music is used in new contexts, for instance Eliza Aria in the recent Lloyds TSB advertising campaign?

I had a wholly positive reaction to hearing my music in these adverts: it's a great pleasure for a composer's music to be given a second chance! The animation artwork in the adverts is masterly and clever, and the way it fits with the music is incredibly thoughtful. The stories are all very cute and charming and one just has to love them. And it has made my music known to a whole new audience. Viewers' reactions after viewing the YouTube video took me by utter surprise - it was just amazing to see that so many people were making really generous comments. And now that even pop and disco versions of Eliza Aria have been released, I'm experiencing another completely new sensation. I feel like I'm entering a world that was closed to me previously.

What are your future ambitions or dreams?

My current ambition is to write a full-length opera, not a chamber opera (of which I have written three already), with soloists, choir and orchestra. Other dream projects would be a big choral symphony, perhaps in a 12 movement form – this number has a special significance for me – or something for kids along the lines of Young Person's Guide to the Orchestra. I also enjoy working with visual artists and film makers, so am hoping for some lively collaborations in the coming years.
> Further information on Work: Ornamental Air
Photo: Bridget Elliot

Boosey & Hawkes Composer News