for basset clarinet and chamber orchestra
Duration: 22'
Scoring
2.0.0.2-2.0.0.0-strings
Abbreviations (PDF)
Publisher
Boosey & Hawkes / Bote & Bock
Territory
This work is available from Boosey & Hawkes for the world.
Availability
World Premiere
4/10/2008
Memorial Hall, Chapel Hill
Michael Collins, clarinet / North Carolina Symphony
Programme Note
Elena Kats-Chernin's Ornamental Air (2007) for basset clarinet and chamber orchestra was jointly commissioned by North Carolina Symphony, City of London Sinfonia, Swedish Chamber Orchestra, and Tasmanian Symphony Orchestra.

In writing a piece for the basset clarinet, Kats-Chernin set out to accent the flexibility and colors of this obscure instrument, while giving it a natural home in the context of the orchestra. The wide range of the basset clarinet allows opportunity for virtuosic arpeggios and scales from the instrument's lowest to upper most register in a relatively short period of time, as demonstrated in the rhythmic and dance-like first movement. The second movement is slower and contemplative, beginning with a simple ornament which unfolds gradually into a broader motif based on Liszt's Liebestraum. In contrast to the leaps and runs of the previous movement, the basset clarinet shows its deep and soulful qualities with long sweeping lines and sustained melody. The basset clarinet again shows its agility in the breathless final movement, as patterns shift in intervals around the centre of a chord, changing with each passing bar. The piece concludes after a virtuosic solo cadenza, tying Kats-Chernin's signature lyricism and relentless rhythmic energy together.
Recommended Recording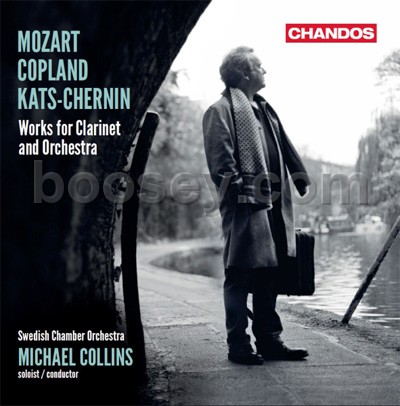 Michael Collins / Swedish Chamber Orchestra
Chandos CHAN 10756
News stories for this title:
Links