Metropolis Ensemble Performs Premieres by Enrico Chapela and Du Yun
(January 2011)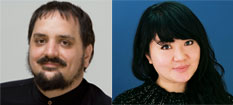 New York Premiere of Chapela's Li Po and World Premiere of Du Yun's Fallen Warriors, the Cihuacoatl's Eye
Two works by Boosey & Hawkes composers, Enrico Chapela and Du Yun, will be premiered by the Metropolis Ensemble at New York's Le Poisson Rouge on January 27-28, 2011 at 8:00 p.m. The chamber orchestra, which is committed to performing and commissioning new works, will perform the New York premiere of Chapela's Li Po and the world premiere of Du Yun's Fallen Warriors, the Cihuacoatl's Eye, with the composer performing electronics. These works appear on the Metropolis Ensemble's "Hallucinations" program, led by conductor and Artistic Director Andrew Cyr.

Enrico Chapela's Li Po, premiered by the Los Angeles Philharmonic in 2009 as part of their Green Umbrella new music series, is scored for chamber orchestra and showcases influences from both Eastern and Western cultures. The work is based on the poem "Li Po" by the Mexican poet José Juan Tablada, who based his poem on the life of the Chinese Tang Dynasty poet Li Po. Says Chapela: "Tablada's 'Li Po' is unique in Mexican literature, depicting the story of the Chinese poet Li Po's 'Drinking Alone with the Moon' with beautiful calligrammes. The first time I saw this poem I was immediately captured by its visual presentation and only later discovered the exquisite poetry hidden underneath. Recognizing the power of combining the eye with the ear, semantics with phonetics, east and west, I knew I had to compose a work based on this piece of literature." Chapela composed the work after recording himself reading the poem out loud, and matching the rhythms and phonetics of this reading into a score. Li Po will also be performed by the St. Paul Chamber Orchestra on February 17, led by conductor Joana Carneiro.

While Chapela's work has substantial influences from Eastern culture, Shanghai-born composer Du Yun has created a work that honors a figure from Central American history. Fallen Warriors, the Cihuacoatl's Eye, scored for flute, clarinet, contrabassoon, trumpet, trombone, string quartet and electronics, pays tribute to Cihuacoatl, the Aztec fertility and childbirth goddess, a fierce skull-faced woman who carries the shield and spears of a warrior. In many traditions, childbirth has long been associated with warfare and the women who die in childbirth are regarded as fallen warriors. This inspired composition, at once chaotic and monstrous, ultimately traces a sense of resilient lament. Du Yun will see two other world premieres of her works this season: Joana Carneiro conducts Mantichora at Berkeley Symphony on January 20, and the International Contemporary Ensemble will perform An Angel's Bones on May 7 at The Mann Center for the Performing Arts in Philadelphia.

> To purchase tickets to this event, please click here.

Photo Credit: Bernd Uhlig / Denise Anderson

Boosey & Hawkes Composer News