Olga Neuwirth: Her Life and Music
(March 2022)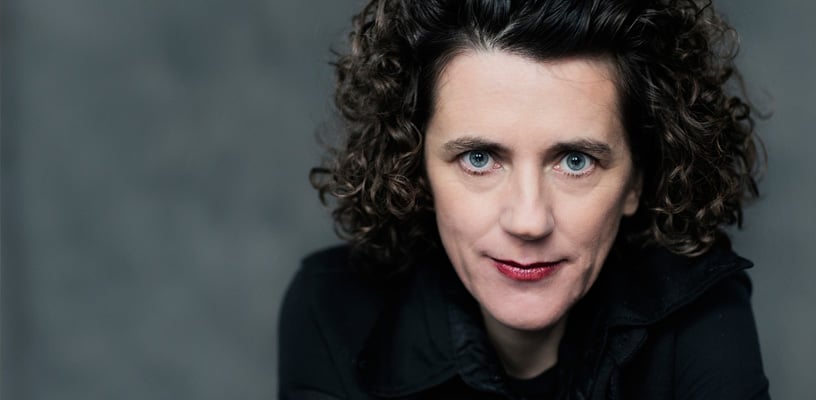 Olga Neuwirth has made waves across the international music scene with her cross-genre, multi-media theatre pieces. Learn about her fascination with a multitude of topics, from science to politics. Part of a profile series throughout March—Women's History Month—in which we explore the lives, music, and inspirations of extraordinary composers from around the world.
Everything I see, hear and feel can become music, deploying the full breadth of my "emotional palette". —Olga Neuwirth
Her Career
The artistic self-image of Olga Neuwirth (born in 1968) has always involved multiple aesthetics, from film, literature, visual art, natural science, and everyday culture. She is among the most prominent voices in new music and one of the most internationally renowned female composers. She is recognized as a pioneer of audiovisual composition in the 1990s with her cross-genre art.
Olga Neuwirth started taking trumpet lessons at age seven. However, she didn't pursue a career as an instrumentalist: "When I couldn't play the trumpet anymore following a serious car accident at the age of 15, I was inspired by a workshop with Hans Werner Henze to start composing for the purpose of processing my inner self."
She studied music, painting, and film at the San Francisco Conservatory of Music and at an art college. In Vienna, she continued her studies at the University of Music and Performing Arts and at the Electroacoustic Institute. Her encounters with Adriana Hölszky, Tristan Murail, and Luigi Nono were deeply inspiring.
She first gained international attention in 1990 with two short operas based on texts by Elfriede Jelinek for ensemble and electronics at the Wiener Festwochen. Another breakthrough work, Bählamms Fest [Lamb Feast] (1994), is described by Neuwirth as an "immersive experience with electronic surround sound and the morphing of a wolf into a counter tenor." In the Lost Highway video opera (2003), based on David Lynch's eponymous film, which premiered in the Klangforum in Graz (with subsequent stagings in New York, London, and at the Oper Frankfurt), she demonstrated an innovative complexity in the intertwining of video and music. In addition, her operatic version of Virginia Woolf's Orlando (2019) was staged at the Vienna State Opera, made her the first woman composer to be presented in the opera's 150-year history.
Olga Neuwirth has been awarded numerous prizes, including the 2022 Grawemeyer Award for Music Composition, Großer Österreichischer Staatspreis [Grand Austrian State Award], and the Deutscher Musikautorenpreis [German Music Author Award. Her works between 2000-2008 and 2021 onward are published by Boosey & Hawkes. Other works by Neuwirth are represented by music publisher Ricordi.
Her Voice
Olga Neuwirth gets inspiration from far and wide: "Everything around me that has always interested me: neurology, literature, politics, film, animation, fashion, visual arts, and all kinds of music."
She is particularly focused on an interdisciplinary approach that speaks to all the senses:
"My work should always span every genre and cross boundaries and limits which were and are set by humans and from the beginning on I have asked political social questions to develop visions, as it seems that only in art one can still express visions and not only reproduce old thorughts like dropped leafes. Therfore? a more and more clear way from heteronomy to freedom represented by an independent style that is hard to define as it is free from norms and rituals."
Olga Neuwirth's passion to examine music of all eras and genres involves many role models, from Varèse, Mozart, Mahler, Lachenmann, and Nono, to Patti Smith, Beastie Boys, Klaus Nomi, Miles Davis, the Chicago Art Orchestra, and Kraftwerk.
Her Collaborations
"Olga Neuwirth loves versatile, amorphous sound—sound whose inside and outside is constantly in motion."?—Stefan Drees
Olga Neuwirth's music is played by the most notable interpreters of the contemporary music scene, such as the Arditti Quartet, Ensemble Phace, Ensemble Modern, Klangforum Wien, and Ensemble Intercontemporain. Her concertos have been premiered by trumpet player Håkan Hardenberger (...miramondo multiplo..., 2006) and violist Antoine Tamestit (Remnants of Songs... an Amphigory, 2009), among others. Conductors such as Pierre Boulez, Peter Eötvös, Valery Gergiev, Daniel Harding, Susanna Mälkki, and Matthias Pintscher have presented her compositions.
She is a guest at festivals and in concert halls such as Donaueschinger Musiktage, Salzburg Festival, Carnegie Hall NYC, and Royal Albert Hall in London, among others. She was composer-in-residence at the Lucerne Festival and focus composer at the Elbphilharmonie Hamburg and Berliner Festspiele.
Olga Neuwirth' s multifaceted interests have also resulted in sound installations, expositions, theater music, and film soundtracks, as well as an invitation to the international art exhibit documenta 12 in Kassel. For the musical theater piece ... ce qui arrive… (2004), she worked alongside Paul Auster and Georgette Dee. She has also repeatedly collaborated with artists in the experimental jazz and improv scene, including Robyn Schulkowsky, Fred Frith, David Moss, and Burkhard Stangl, among others.
Watch / Listen Top tracks
• in the realms of the unreal for string quartet / LISTEN
• Lost Highway Opera / LISTEN
• …miramondo multiplo… for trumpet and orchestra / LISTEN
• Music for "Symphonie diagonale" by Viking Eggeling for ensemble / LISTEN
• locus ... doublure ... solus for piano and ensemble / LISTEN
• Zefiro aleggia... nell'infinito for bassoon and orchestra / LISTEN
• Marsyas II for ensemble /LISTEN
• Torsion for bassoon / LISTEN
Photo: Harald Hoffmann

Boosey & Hawkes Composer News