Panufnik's autobiography Composing Myself published in new edition
(March 2023)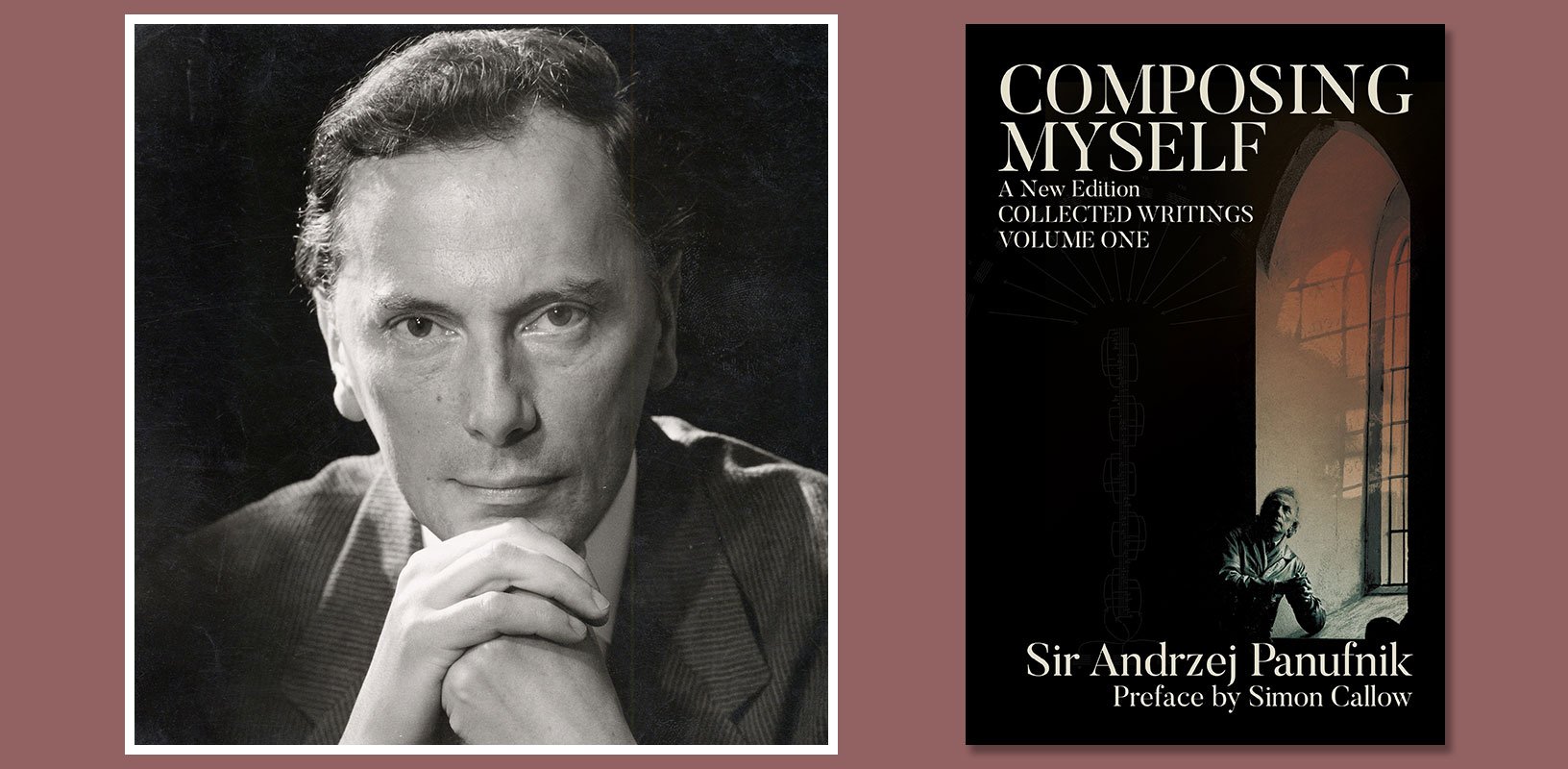 Sir Andrzej Panufnik's autobiography Composing Myself charts his creative life navigating the political turmoil of the twentieth century. A new annotated edition is published by Toccata Press on 28 March, together with a selection of the composer's writings on music.
A new edition of Sir Andrzej Panufnik's Composing Myself is published by Toccata Press on 28 March in its Musicians on Music series (ISBN 9781648250446). The volume includes the Anglo-Polish composer's gripping autobiography written in 1985, complete with new detailed annotations, a new preface by Simon Callow, and a new final chapter by Lady Camilla Panufnik featuring the composer's momentous return to Warsaw in 1990. This is a first volume in a two-volume anthology collecting all Panufnik's writings.
> Buy the book from our Online Shop
Sir Andrzej Panufnik (1914-91) used to say that he communicated in music, not words. But his literary legacy is substantial, as this anthology demonstrates. Its first volume consists of a fully annotated new edition of Composing Myself, the autobiography he wrote in 1985, long since a collector's item. It provides a graphic account of an often dramatic life. Panufnik's early success in pre-World War II Poland was soon eclipsed by the horrors of the Nazi occupation. Composing Myself documents in striking detail the desperate circumstances in which Panufnik repeatedly found himself – and the personal courage with which he responded.
Post-War Poland then progressed from the overt terrors of Nazism to the deadening hand of Communism, and Panufnik charts the methodical attempts of Party orthodoxy to stifle independent thought. In spite of the success he enjoyed as a conductor, Panufnik was unable to compose under such restrictions, feeling he was being suffocated. Though a patriot to his bones, he boldly decided that escape to the west was the only option, and his account of his defection – in 1954, at the height of the Cold War – reads like a le Carré thriller. Safe in England, he was able to rebuild his career, overcoming official neglect of his music to become one of Britain's best-respected composers – and to be greeted as a national hero when he finally managed to return to his beloved Poland, free at last.
The second volume in the new edition, planned by Toccata Press for future publication, will include the composer's essays on his works, originally published under the title Impulse and Design, together with further notes on his works and a selection of interviews and articles.
About Sir Andrzej Panufnik
Sir Andrzej Panufnik (1914-91) was one of the leading composers of his day, with no fewer than ten symphonies among his substantial list of works. Although he defected from Communist Poland and became one of the most important of British composers, his music continued to engage with his native land. He had been one of Poland's most eminent conductors, too, and continued to appear worldwide to conduct performances of his own music. He was knighted by Her Majesty Queen Elizabeth II in 1991, only a few months before his death. Sir Georg Solti described him as 'an important composer and first-class conductor, the finest protagonist of the European tradition of music making'.
> Further information on Panufnik and his music
> Listen to Panufnik's music
> Visit the Panufnik website
Composing Myself
A New Edition: Collected Writings, Volume One
Sir Andrzej Panufnik
Preface by Simon Callow
List Price: £60/$85
March 2023
ISBN: 9781648250446
478 pages
20 colour & 80 b/w illustrations, Hardback
Toccata Press: Musicians on Music
Distributed by Boydell & Brewer
eBook Edition
List price: £19.99/$24.95
eISBN: 9781800109506
Photo: Camilla Jessel Panufnik

Boosey & Hawkes Composer News