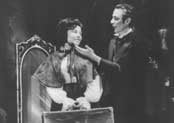 Photo: Frank Lotz Miller
Floyd, Carlisle
Opera in one act
Duration: 70 minutes
Music Text
Libretto by the composer, after the story by Robert Louis Stevenson (E)
Scoring
S,2T,BBar; chorus
2(II=picc).2(II=corA).2(II=bcl).2-4.2.2.1-timp.perc(2):chimes/vib/
xyl/glsp/gong/susp.cym/cyms/wdbl/whip/SD/TD/BD/tamb-harp-strings
Abbreviations (PDF)
Publisher
Boosey & Hawkes
Territory
This work is available from Boosey & Hawkes for the world.
Availability
World Premiere
3/31/1966
New Orleans, Louisiana
Carlisle Floyd, director
Conductor: Knud Anderson
Company: New Orleans Opera
Roles
| | |
| --- | --- |
| JOSIAH CREACH | Tenor |
| MARKHEIM | Bass-Baritone |
| TESS | Soprano |
| A STRANGER | Tenor |
| Carolers (off stage) | Mixed Chorus |
Time and Place
1880- London
Synopsis
Setting: A London pawn shop, 1880
It is Christmas Eve, and the pawnbroker Josiah Creach is going over his accounts. He shoos away a group of carolers, threatening to call the police. Just then, a client arrives at the shop—it is Markheim, a depraved aristocrat. Assuming that Markheim has come to wish him a merry Christmas, Creach invites him in for a drink. But Markheim tells him there is another reason for his visit: he needs a loan immediately to pay gambling debts, otherwise he will be killed. Creach toys with Markheim at length, forcing him to admit all of his corruption—and then refuses to grant the loan. Humiliated and enraged, Markheim takes Creach by the throat and demands to know where the money is. After a brief struggle, Creach falls dead.
Markheim has just hidden Creach's body behind the counter when a stranger appears. He warns Markheim that Creach's servant, Tess, is on her way to the shop and is bound to find her employer's body. Inexplicably, the stranger knows what Markheim has done. He offers to help Markheim find the money; all he wants in return is for Markheim to devote his life to pleasure. There is one condition—Markheim must never have any remorse or regret. Tess returns while Markheim is still trying to decide what to do, and the stranger urges Markheim to kill her as well. But Markheim is unable to do it. He confesses to Tess that he murdered Creach and tells her to call the police. The carolers return and, now redeemed, he joins in the singing as he waits to be arrested.
Subjects
Recommended Recording
Norman Treigle, Alan Crofoot, Audrey Schuh and William Diard, New Orleans Opera, Knud Andersson
Video Artists International VAI 1107
Links