for orchestra in eight groups
Duration: 27'
Scoring
3(=picc).4(=corA).4(=Ebcl).bcl.3-4.3.3.1-perc(8):vib; glsp; tamb/wdbl/Indian bells/Iranian camel bells; t.bells/Iranian camel bells; tom-t/SD/cel; tam-t(lo); Balinese gong-pft-strings
Abbreviations (PDF)
Publisher
Boosey & Hawkes (Hendon Music)
Territory
This work is available from Boosey & Hawkes in der ganzen Welt.
Availability
Uraufführung
3/14/1987
Salle Claude-Champagne, Montréal, QC
Orchestre Métropolitain / Walter Boudreau
Programme Note
Siddhartha, eines der wenigen Werke Viviers für Orchester, wurde von Hermann Hesses gleichnamigem Buch inspiriert, in dem es um die Suche eines jungen Mannes nach Erleuchtung geht. Nach einer aufmerksamkeitsheischenden Eröffnung verlagert sich das Stück auf kammermusikalische Kombinationen der Orchesterinstrumente, es entwickelt sich eine Musik von großer Intimität und Zartheit. Obwohl sich ein asiatischer Einfluss in der Partitur bemerkbar macht, komponierte Vivier dieses ambitionierte Stück vor seiner spirituellen und lebensverändernden Reise nach Asien.

© Bob Gilmore
Note reproduced by permission of the author.
Recommended Recording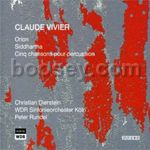 Links