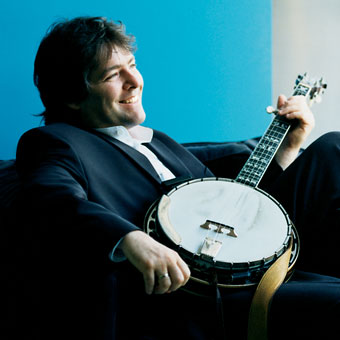 Béla Fleck
b. 1958, New York, NY
Banjoist Béla Fleck – winner of 15 Grammy Awards and nominated in more categories than any other artist in Grammy history – is one of the world's most consummate and innovative exponents of his instrument. As the New York Times observes: "Mr. Fleck can lay claim to the title of the most popular living banjoist, having done much to push the instrument beyond bluegrass terra firma into jazz, classical, and beyond."
Born in 1958 in New York City, Fleck seemed destined to be a world-class musician from the start, having been named for three great composers: Béla (for Bartók), Anton (for Webern), and Leos (for Janácek). Already a powerfully creative force in bluegrass, jazz, pop, rock and world beat, Fleck made the classical connection with Perpetual Motion, his 2001 Sony Classical recording that went on to win a pair of Grammy Awards, including Best Classical Crossover Album. Collaborating with the banjoist on Perpetual Motion was his longtime friend, double bass virtuoso and composer Edgar Meyer. Fleck and Meyer went on to co-write and perform a double concerto for banjo, bass and orchestra, which they debuted with the Nashville Symphony in 2003. They also co-wrote a triple concerto for banjo, bass and tabla – titled The Melody of Rhythm – with world-renowned tabla player Zakir Hussain.
In August 2013, Fleck makes his Deutsche Grammophon/Mercury Classics debut as a composer-performer with The Impostor, an album showcasing his title concerto for banjo and symphony orchestra coupled with his Night Flight Over Water, for banjo and string quartet. For The Impostor concerto, the banjoist teamed with conductor Giancarlo Guerrero and the Nashville Symphony (which commissioned the work); for Night Flight Over Water (commissioned by Butler University), Fleck partnered with the adventurous string quartet Brooklyn Rider.
Both works feature prominently in Fleck's 2013-14 season. August sees him undertake The Impostor with the Philadelphia Orchestra, before revisiting it with the South Carolina Philharmonic and the symphony orchestras of North Carolina, Indiana University, Huntsville, Canton, and Peoria. Starting with nine dates in November, Fleck and Brooklyn Rider look forward to touring Night Flight Over Water extensively across the U.S. and Canada. Season highlights also include collaborations with jazz keyboardist Chick Corea, singer-songwriter Alison Krauss, and Fleck's wife and fellow banjoist, Abigail Washburn.
Other recent artistic partnerships have featured African artists Oumou Sangaré and Toumani Diabaté, jazz with the Marcus Roberts Trio, and bluegrass with old friends. Béla Fleck and the Flecktones still perform together, 25 years after the band's inception.
The banjoist's first documentary, Throw Down Your Heart, won the audience award at South by Southwest and the Vancouver Film Festival.