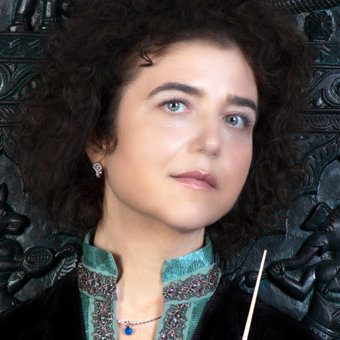 Lera Auerbach
b. 21 October 1973, Tscheljabinsk, Soviet Union
Lera Auerbach received her first musical training from her mother. She wrote her first opera at the age of twelve, which was performed in many cities of the former Soviet Union. In 1991, whilst travelling in the USA, she decided to remain in the West. She graduated from the New York Juilliard School in piano (with Joseph Kalichstein) and composition (with Milton Babbit and Robert Beaser), simultaneously studying comparative literary science at Columbia University. She gave her Carnegie Hall debut in 2002, where she performed her own Suite for Violin, Piano and String Orchestra with Gidon Kremer and the Kremerata Baltica. Since then the worldwide career of the composer, pianist and author has undergone an unusually rapid development.
Lera Auerbach's music seems to be primarily based upon traditional influences. For her it is no contradiction to use classical tonality and classical formal language in order to find new paths. Upon closer listening, however, an entire cosmos of unusual sounds, colours and fantasies opens up, which characterises her highly developed personal style.
May 2021
This biography can be reproduced free of charge in concert programmes with the following credit: Reprinted by kind permission of Boosey & Hawkes / Sikorski.