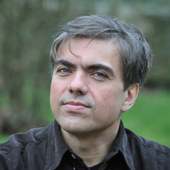 Moritz Eggert
b. 25 November 1965, Heidelberg, Germany
After early piano studies, Moritz Eggert began his training at Dr. Hoch's Conservatory in Frankfurt am Main in 1975. He studied piano at the Frankfurt Musikhochschule with Leonard Hokanson before moving to the Munich Musikhochschule in 1986 to study composition with Wilhelm Killmayer.
In 1991, Eggert was a co-founder of the Munich festival "A*Devantgarde". He has been a full member of the Bavarian Academy of Fine Arts since 2003.
For Eggert, art is, by definition, a means of overcoming ideological or stylistic boundaries. His music combines humour, playful virtuosity, lightness and seriousness. In his compositions, he has found an unforced, unencumbered relationship to tradition; his style combines the witty with the entertaining.
In 2020, he succeeded Enjott Schneider as president of the German Composers' Association.
This biography can be reproduced free of charge in concert programs with the following credit: Reprinted by kind permission of Boosey & Hawkes/Sikorski.