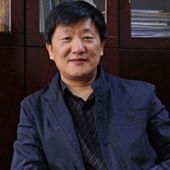 Guoping Jia
b. 1 October 1963, Shanxi, China
Guoping Jia was born in 1963 in Shanxi (China). In 1980–1984 he completed studies in music at the Shanxi-Jin Opera Academy in Taiyuan. In 1984–1987 he was the director of the music department at the Culture House in Luliang. From 1987–1991 he studied composition at the Central Conservatory in Beijing, where he was an instructor in harmony and composition beginning in September 1991. In 1994–1998 he was a stipend recipient of the DAAD, studying composition with Helmut Lachenmann at the State Academy of Music and the Performing Arts in Stuttgart; from here, he participated at the Darmstadt Holiday Courses in 1996. Since September 1998 he has been Professor of Composition and Analysis of New Music at the Central Conservatory in Beijing.
As a composer, Guoping Jia has built up his own musical language systems after many years of development. He has always tried to combine aspects of the new composition techniques or the aesthetics of new music with the peculiarities of Chinese and to find his own way. The musical characters of his works have a strong relationship with the aesthetics of Chinese traditional art, in which beauty also has a lot to do with emptiness, restraint and delicacy. Strong emotions and exaggerated increases are rather rare.
Guoping Jia has composed chamber and orchestral music, Chinese folk music, ballet and film music and has received various prizes and awards in China and the Federal Republic of Germany. His works have been performed in numerous countries. The most important of these are: Der zersplitterte Klangschatten (2003), Schweben über grenzenlosem Feld (2001/2002), The Wind Sounds in the Sky (2003), Whispers of Gentle Wind (2011), orchestral pieces The Sacrifice (1991), Qing Diao (1998), Ice-Fire (2001/2005), Kalaviuka (2012), Lingering in the Firmament for Chinese orchestra (2001) and The Pine-Soughing Valleys (2014).
Jia is strongly committed to cultural exchange between China and Germany, devoting himself to organizing concerts and scholarly events. In 2007 he introduced the annual 'Con Tempo Composition Competition' and in 2009 the 'German Contemporary Music Festival'. In 2011, with the support of the Siemens Foundation and the International Ensemble Modern Academy, he founded the 'ConTempo Ensemble Beijing', the first Chinese ensemble for modern music in which Western and Eastern instruments are combined.
This biography can be reproduced free of charge in concert programs with the following credit: Reprinted by kind permission of Boosey & Hawkes/Sikorski.