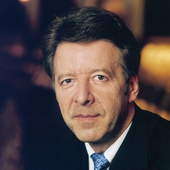 Peter Ruzicka
b. 3 July 1948, Düsseldorf, Germany
Peter Ruzicka studied law and music in Munich, Hamburg and Berlin and received his doctorate in 1977. After working as director of the Berlin Radio Symphony Orchestra between 1979 and 1987, he was director of the Hamburg State Opera from 1988 to 1997. From 2001 to 2006 Ruzicka directed the Salzburg Festival. Since 1990 he has been a professor at the Hamburg University of Music and Theater, and from 1996 to 2014 he was artistic director of the Munich Biennale. From 2015 to 2020 he was managing director of the Salzburg Easter Festival. Ruzicka appears both as a composer, conductor and as artistic director and promoter in international musical life.
While his work up to the end of the 1960s was still completely under the spell of the 'father generation' (Henze, Ligeti, Stockhausen), since ...fragment... in 1970 Ruzicka's aesthetic course can be said to be marked by the trigonometric points of Mahler, Webern and Celan. Against this background, his oeuvre has developed to be equally impressive in its variety of genres, power of inspiration and sovereign compositional mastery.
This biography can be reproduced free of charge in concert programs with the following credit: Reprinted by kind permission of Boosey & Hawkes/Sikorski.