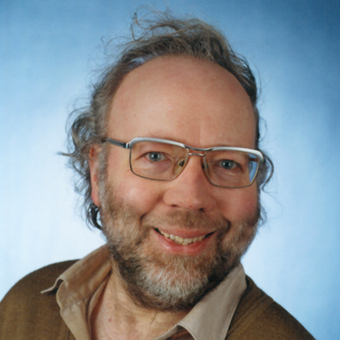 Wolfgang-Andreas Schultz
b. 7 September 1948, Hamburg
Born in Hamburg in 1948, Wolfgang-Andreas Schultz received piano and cello lessons as a child before embarking on his first compositions at the age of 12. After finishing school in 1968 he began studying musicology and philosophy at Hamburg University. During this time, however, his interest in composition deepened and so he was accepted as a composition student at the Hamburg musical academy under Ernst Gernot Klussmann and György Ligeti in 1972. In 1977 he became a lecturer at the academy; as Ligeti's assistant, he taught Ligeti's students the traditional disciplines of harmony, counterpoint and instrumentation. He has been a professor of music theory and composition in Hamburg since 1988.

Schultz has given guest lectures in Youngstown (Ohio, USA), Zurich, Vienna, Prague and Aarhus, as well as in numerous German towns and cities. His most important works include two chamber operas (Talpa, Kiel 1981; Das Federgewand ('The Feather Garment'), Saarbrücken 1984; two full-length operas, Sturmnacht ('Stormy Night'), Nuremberg 1987; Achill unter den Mädchen ('Achilles Among the Maids'), Kassel 1997; various orchestral works, including Mythische Landschaft ('Mythic Landscape'), Lübeck 1976; Shiva – A Dance Poem for Flute and Orchestra, Hanover 1992 and his 1st Symphony 'Die Stimmen von Chartres' ('The Voices of Chartres'), Greifswald 2004. In addition to works for chamber orchestra, his output includes, three string quartets and a piano trio, as well as several solo works and song cycles.

Schultz expounded his ideas on musical aesthetics in his philosophical essay 'Damit die Musik nicht aufhört …' (published by Karl Dieter Wagner, Schneverdingen). In 'Das Ineinander der Zeiten – Kompositionstechnische Grundlagen eines evolutionären Musikdenkens' (Weidler Verlag, Berlin), he explains the principles of his compositional technique. Two CDs with some of his chamber music are available: a feature CD including the Violin Sonata and the solo motet, Die Schöpfung ist zur Ruh gegangen ('Creation Has Gone to Rest'), on the CHARADE label, No. CHA 3019 (ES-DUR-Musikproduktion, Hamburg), and the piano work Nacht der Versuchungen – Nacht des Todes ('Night of Temptation – Night of Death') on Aulos, AUL 66120 (Musikado, Cologne).