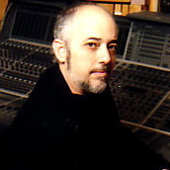 Craig Leon
b. 7 January 1952, Miami, Florida
Craig Leon (b.1952) was raised in Fort Myers, Florida, where he received private classical music training as well as instruction in composition and conducting. While still continuing his classical studies and composition, Leon started developing and nurturing what was to become a life long interest in ethnomusicology, first involving the researching and collating of American folk music, later broadening towards the study of music from all cultures.
Leon moved to Manhattan in the early 1970s where he worked as a producer at Sire Records. There he was responsible for the discovery and early development of the Ramones and Talking Heads among other artists. He passionately set about documenting and recording the New York underground music scene of the 1970s. Leon also produced ground-breaking recordings by Blondie, Richard Hell, Suicide and many other artists connected with the burgeoning New York scene. To date Leon has produced over 150 LP and CD albums of alternative pop music.
While engaging in these recordings Leon concentrated on the development of new ideas and working in alternative forms within contemporary music. This culminated in his own first recorded work, Nommos, a dance piece based on North African ethnic themes and electronic music. The music was used by members of The Twyla Tharp dance troupe at the opening exhibition for the Los Angeles Museum of Contemporary Art in 1981 and was subsequently released as an LP on John Fahey's seminal Takoma Records. After relocating to the UK in the late 1980s, Leon continued producing recordings and in the early 1990s wrote and recorded a second full-length score, Klub Anima, for the Kosh Dance Theatre. This work explores alternating classical and modern electronic forms and was performed at the Bristol Old Vic Theatre in the UK.
Since 1998 Leon has been exclusively producing, orchestrating and recording classical projects. These include an arrangement and orchestration for Luciano Pavarotti, settings of American and British folk songs for Andreas Scholl and the Orpheus Chamber Orchestra recorded by Decca and first performed at Carnegie Hall in 2001, the Decca album Elysium containing settings of Medieval French folk and troubadour texts performed by members of Sequentia and the Vienna RSO, and a crossover project exploring Italian Film Music in collaboration with Luis Bacalov including performances by Luciano Pavarotti, Sting, Deborah Harry and others.
In 2003 Leon orchestrated and produced for Sony Classical the Romance of the Violin album featuring Joshua Bell and The Academy of St. Martin in the Fields. This disc became the first purely classical (as opposed to crossover) Sony Classical recording to attain a place on the Billboard pop charts in the past twenty years, and in 2004 was US Billboard's No.1 bestseller for the year in the Classical Artist category. Further projects have included a London Symphony Orchestra recording of Leon's orchestral transcriptions of piano works by American composer Charles Griffes, and the Wings of Song album of transcriptions for James Galway and the London Symphony Orchestra for Deutsche Grammophon, which reached No.1 in the UK, and No.2 in the US charts.
January 2019
This biography can be reproduced free of charge in concert programmes with the following credit: Reprinted by kind permission of Boosey & Hawkes