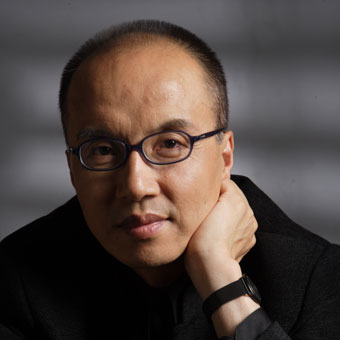 Qigang Chen
b. 28 August 1951, Shanghai
Qigang Chen was studying music as a teenager at the Central Conservatory of Music at the outbreak of the Cultural Revolution in 1966. He was confined for three years and underwent "ideological re-education", yet went on learning composition despite social and political anti-cultural pressures. In 1977 the state reopened entry the Conservatory and he studied there for five years with Luo Zhongrong.
In 1983 Chen won a postgraduate contest to travel abroad, and for four years was Messiaen's only student after the master's retirement from the Paris Conservatoire. He described how Chen's compositions "show real inventiveness, very great talent and a total assimiliation of Chinese thinking with European musical concepts." Chen has received commissions from Radio France, Deutsche Kammerphilharmonie, Stuttgart RSO, Orchestre Symphonique de Montréal and the Koussevitzky Foundation. He was composer-in-residence at the Orchestre Philharmonique de Strasbourg from 2004 to 2006.
In 2008 Chen worked as Director of Music for the Beijing Olympics Opening Ceremony, watched by 100,000 in the stadium with several billion watching wordwide on TV. His work for piano and orchestra, Er Huang, was premiered by Lang Lang at Carnegie Hall in 2009 and performed by Herbie Hancock at Lincoln Center in 2013. His trumpet concerto for Alison Balsom, Joie Eternelle, received first performances in 2014 with the China Philharmonic and Long Yu in Beijing, Shanghai and at the BBC Proms in London, with performances in 2016 in Amsterdam and Munich. His variations for orchestra, Luan Tan, were premiered by the Hong Kong Philharmonic in April 2015 and recently received their North American premiere by the China NCPA Orchestra at Carnegie Hall in New York. A CD of Chen's works was released by Naxos in 2016.
Recent works include the violin concerto La joie de la souffrance, premiered with Maxim Vengerov as soloist at the 2017 Beijing Music Festival, with further performances in France, Russia, Armenia, USA, Australia, South Korea and China. A new set of orchestral variations, Itinéraire d'une illusion, has been performed in the Netherlands, France and China. Jiang Tcheng Tse, a setting of 11th century Song Dynasty texts for Peking Opera style female singer, chorus and orchestra, was premiered by the NCPA Orchestra and Choir in 2018.
April 2022
This biography can be reproduced free of charge in concert programmes with the following credit: Reprinted by kind permission of Boosey & Hawkes