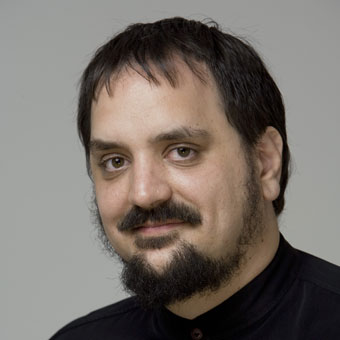 Enrico Chapela
b. 29 January 1974, Mexico City
ENRICO CHAPELA – BIOGRAPHY
Enrico Chapela studied guitar performing and composition at CIEM academy im Mexico. He obtained a Master degree at the University of Paris Saint-Denis in 2008, and a Doctorate degree at the National University in Mexico (UNAM). He has won recognition at several international competitions such as The John Simon Guggenheim Memorial Foundation Fellowships, the National System of Art Creators (Mexico), the International Rostrum of Composers (UNESCO), the International Alexander Zemlinsky Composition Competition and The Barlow Endowment for Music Composition Prize, amongst others.
Enrico Chapela has been commissioned to compose new works for The Los Angeles Philharmonic, Carnegie Hall, Seattle Symphony, Berkeley Symphony, Cincinnati Symphony, Santa Rosa Symphony, Cincinnati's CCM Symphony, Nationaltheater-Orchester Mannheim, Staatsorchester Cottbus, Deutsche Welle, Beethovenfest Bonn, Dresdner Sinfoniker, BBC Scottish Symphony Orchestra, Britten Sinfonia, City of Birmingham Symphony, Wigmore Hall, L'Orchestre Philarmonique de Radio France, OFUNAM, Sinfónica de Minería, Sinfónica Carlos Chávez, Orquesta de Boca del Río, Orquesta Simón Bolívar, Orquestra de São Paulo, Entrequatre, Cuarteto Latinoamericano, ONIX ensamble, Jaime Márquez, Mauricio Nader, New Paths in Music Festival, Vail Music Festival, Dartmouth College Wind Ensamble, HD Duo, Festival Cervantino, Festival MX, and the National Center for the Performing Arts of China.
His music has been performed in Latin America, North America, Asia, Australia and Europe by performers such as Chicago Symphony, Indianapoils Symphony, Nashville Symphony, Brooklyn Philharmonic, Saint Paul Chamber Orchestra, Brevard Music Center Orchestra, Philharmonic Orchestra of the Americas, Kitchener-Waterloo Symphony, Calgary Philharmonic, Sinfónica Nacional de Argentina, Sinfónica de Puerto Rico, Festival Campos de Jordao, Orquesta Brasileira, Sinfónica Nacional de México, Sinfónica de la Universidad de Guanajuato, Sinfónica de Sinaloa, Filarmónica de Jalisco, Warsaw Philharmonic, Bundesjugendorchester, Jenaer Philharmonie, Staatsorchester Cottbus, Orchestra della Svizzera Italiana, London Sinfonietta, Seoul Philharmonic, Queensland Symphony, Cabrillo Festival, Tanglewood Festival, Aura Ensemble, Ensemble 10/10, Percussion Group Cincinnati, Metropolis Ensemble, North/South Chamber Orchestra, Arditti String Quartet, Carpentier String Quartet, Calder String Quartet, Cuarteto José White, Modern Sax Quartett Berlin, Haags Saxofoonkwartet, Stockholm Sax Quartet, Cosmos Sax Quartet, Anacrusax, Case Sax Quartet, Mana Saxophone Quartet, Tambuco, Quinteto de Alientos de la Ciudad de México, Quinteto de Metales de la Ciudad de México, Cuarteto de Guitarras de la Ciudad de México, Trio de Alientos de Bellas Artes, Cepromusic, Voz en Punto, Ensamble Nuevo de México, Orquesta Pasatono, Johannes Moser, Pekka Kuusisto, Alejandro Escuer, Gonzalo Salazar, Víctor Flores, Edith Ruiz, Richard Pohl, Rolando Valdés, Álvaro Bitrán, Natalia Pérez Turner, Horacio Franco, Mattias Jacobsson, and Pablo Garibay.
Some of the conductors who have conducted his music are: Esa-Pekka Salonen, Gustavo Dudamel, Marin Alsop, Joana Carneiro, Krzysztof Urbanski, Premil Petrovic, Niksa Bareza, Alexander Vedernikov, Christoph König, Markus Frank, Olari Elts, Andrew Cyr, Mark Gibson, James Gaffian, Jason Love, Edwin Outwater, Thomas Dausgaard, David Alan Miller, Pascal Rophé, Nicholas Milton, Max Lifchitz, Clark Rundell, Daryl Pratt, Leslie Dunner, Eckart Preu, Keith Lockhart, Michael Christie, Garry Walker, Darrel Ang, Stefan Asbury, David Bloom, Cliff Colnot, Iván del Prado, Luis Gorelik, Giancarlo Guerrero, Joshua Dos Santos, Marcos Arkaki, Diego Matheuz, Roberto Minczuk, Jorge Mester, José Areán, Carlos Miguel Prieto, José Luis Castillo, Enrique Barrios, Roberto Beltrán Zavala, Alondra De la Parra, Germán Tort, Miguel Salmón del Real, Rubén Luengas, Teresa Rodríguez, and Rafael Huberman.
Chapela has also composed 5 Mexican film scores: Somos lo que hay, Amar no es querer, La posesión de Altair, Casi una gran estafa, and Perdida.
Enrico Chapela's music has been broadcasted in more than 40 countries all over the world. He is the CEO at Núcleo Integral de Composición (NICO), as well as Academic Director at Centro de Investigación y Estudios de la Música (CIEM). He used to host a contemporary music radio show called METAMUSICA at OPUS 94 radio station
His music is exclusively published by Boosey & Hawkes.
January 2021