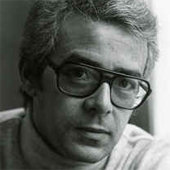 Antonio Ruiz-Pipó
b. 7 April 1934, Granada
d. 17 October 1997, Paris
1941 Following the death of his father during the Civil War, the family moved to Barcelona. There he began studying music at the Escolanía de Nuestra Señora de la Merced with Antoni Pérez Moya, including Gregorian chant, organ, harmony and chamber music.

1948 Member of the Manuel de Falla Circle of Barcelona, which had organised contemporary-music concerts at the Instituto Francés since 1947.

1948–51 Enrolled at the Frank Marshall Academy, where he learnt the piano with Alicia de Larrocha and studied composition with José Cercós.

1949 Awarded the Manuel de Falla Scholarship by the Granada City Council.

1950 Made his debut as a concert pianist.

1950–51 Composed his first works for the piano: Suite grotesca (1950) and Tres danzas del sur (1951).

1951 Went on a concert tour of Barcelona and Andalusia.
The French government awarded him a scholarship to study in Paris.
Enrolled at the École Normale de Musique de Paris, where he studied with Alfred Cortot, Blanche Bascouret de Gueraldy and Yves Nat. During this period he also received advice from Manuel Blancafort in Barcelona and Salvador Bacarisse in Paris, and later from Mauricio Ohara.

1958 Composed his Chanson et Danse No.1 for guitar.

1959 Wrote incidental music for the short film about the artist Rembrandt.

1962 Founded the Bonaguil Nuits Musicales Festival, of which he was artistic director from 1976 until his death.

1964 Première of Requilorio by the guitarist Narciso Yepes on 5 February at the Salle Gaveau in Paris.

1972–92 Worked for Radio Nacional de España, Radio France and Radio Canada as a music editor and programmer.

1975 Winner of the Premio Internacional de Música de la Ciudad de Zaragoza with the work Cuatro para cuatro for quartet.

1976 Distinguished with an award from the Friends of Georges Bizet Association.

1977–97 Taught at the École Normale de Musique, in Paris.

1979 Winner of the Padre Soler Prize.

1982–97 Taught at the École Nationale de Musique et Danse, in Châteauroux.

1987 Winner of the medal of the city of Fumel and the Medaille A. Roussel de l'École Normale de Musique de Paris.

1992 Honorary member of the Bedrich Smetana Society of Prague.

1996 Recorded a disc of little-known works by Albéniz for the Koch-Schwann recording company.

1997 Died of cancer.

1998 The Orquesta Sinfónica de Madrid, conducted by E. Martínez-Izquierdo paid homage to him on 21 May, with a performance of his Libro de Lejanía (1980) for orchestra.