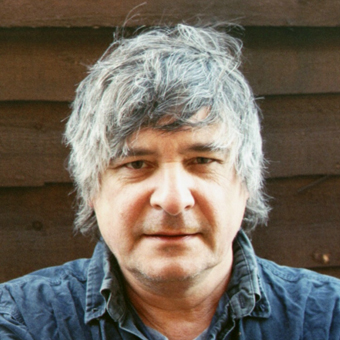 Dmitri Smirnov
1948 - 2020
An introduction to Smirnov's music
by Gerard McBurney
In 1982, still in his early 30s, Dmitri Smirnov completed his Second Symphony, an impressive choral and orchestral setting of poems by the great German Romantic, Friedrich Hölderlin (an exact contemporary of Beethoven). The next step was to send it off to the Composers' Union; in those days, Soviet composers required official approval, without which there could be no commission and no performances.
After a pause, the Union returned the score with a sharp note explaining: 'your symphony will never be performed, owing to its words by a certain Gelderlin [sic] of whom it is not known how he would have behaved had he lived into the 1940s'. Had Hölderlin indeed lived so long, he would have been 170 years old.
Dmitri Smirnov relished the absurdity of typically Soviet stories like this one (and the symphony, by the way, has still never been performed). Here was a man with an intense and hungry enthusiasm for life, a huge appreciation of the painful and hilarious, and an imagination always directed well beyond what he outspokenly dismissed as the suffocating borders of the provincial world in which he was raised. Inspiringly, the storehouse of art he spent his life creating vividly reflects his expansive, warm-hearted and curious temperament.
When Dima (as his friends called him) died in 2020, in his adopted country of the UK and at the start of the Covid Pandemic, he left behind not only a prolific musical legacy (200 opus numbers), but poetry, artworks in various media, a multi-year sequence of diaries unquestionably among the most important chronicles of later Soviet music, a substantial and detailed account of the life and work of his friend the Romanian Webern-pupil Philip Herschkowitz (Gershkovich, in Russian), and a translation into Russian of almost the entire poetic output of William Blake, now sumptuously published.
Unquestionably, Smirnov's passionately intense relationship to Blake was critical to his music and to his wider achievement. He and his wife, the composer Elena Firsova, had several reasons to emigrate from the USSR in the twilight of that country's life, not least their passionate desire for a future for their children. But Smirnov's personal choice of the UK was also rooted in his adoration for the English poet and in his quixotic desire to belong to that same country which Blake reimagined as 'Albion'.
Many were Smirnov's compositions inspired by Blake, including his First Symphony - The Seasons (1980) - two operas - Tiriel (1985) and Thel (1986) - and a rich harvest of other vocal and instrumental pieces. But the young Russian composer also took something wider from the eccentric old English mystic: the underlying idea of an integrated and interconnected artistic world – one might call it a virtual world – in which piece after piece would spring from everything written before and lead into everything written after.
Or, to use a Blakean image, one might liken each of Smirnov's individual creations to leaves, fruit and blossoms, some grand and expansive, some tiny, but all sprouting from a single tree.
Also from Blake, Smirnov derived his highly personal interest in symbolism and the arcane. Of course, Russian culture has a tradition of such preoccupations (think of the ciphers and quotations in Shostakovich) and it is also not difficult to see that this phenomenon itself must be in part a reaction to a bitter (and continuing) history of the repression of free speech, as well as to a nostalgic inheritance from Russian spiritual traditions. But Blake's approach was always different and personal, and not really part of a wider cultural flow: his grandiose symbolic and visionary universe was created wilfully, on his own and from within himself, and from this comes both his idiosyncratic power and (to those who do not care for it) his off-putting strangeness and eccentricity. Of Dima's music one might say much the same.
Probably it was Blake's defiant individualism that first inspired Smirnov when he encountered the Englishman's writings in Moscow sometime in the 1970s. Here was a man from another country and two centuries earlier who was an outsider (which Smirnov instinctively felt himself to be in the Soviet context) and who had created his own artistic world with its own laws in defiance of what he considered the tedious conventions that preoccupied everyone else who surrounded him. For the young Russian, this was a blazing discovery.
At the same time, Smirnov's own fearless independence of spirit already went back deep into his childhood. His parents were opera-singers, first in Minsk (now Belarus), later in Ulan-Ude (in the Republic of Buryatia in Eastern Siberia) and finally Frunze (now Bishkek, capital of Kyrgyzstan). It was only in 1967 that Smirnov, aged 18 and with huge relief, moved thousands of kilometres from the frontier-lands of Central Asia to the Soviet capital of Moscow in order to study at the Conservatory.
The USSR was, of course, an empire, and such a move from the far-flung provinces to the centre was an important one. In later years Smirnov joked that his father would sometimes urge him to move back to Frunze 'where you can be a big fish in a small pond', "but I wanted something completely different". Happily, his three most important Conservatory teachers offered him that difference: Nikolai Sidelnikov, a rugged individualist and underappreciated composer; Yuri Kholopov, by some way the leading Soviet musical theorist of the age; and, most important of all, Smirnov's chief mentor, the Siberian-born modernist, Edison Denisov. None of these three were in any way intimidated by the leaden cultural oppression that held such strong sway in the USSR in those days, and so under their guidance the young man flourished and set out boldly along the dusty road in search of his own voice.
It is striking how quickly Smirnov found that voice. In that, it was probably the example of Denisov that helped most of all. Indeed, for the rest of his life, Dima remained deeply loyal to Denisov as a friend and guide, and to the older man's music which he knew inside out. A cursory glance at Smirnov's scores unabashedly reveals his own fondness for several of Denisov's characteristic musical thumbprints.
But here things become more interesting, because although some of their techniques might have been similar, Smirnov's music is markedly different to Denisov's in its expressive tone. Where Denisov's music, however modernist and often Francophile on its surface, quickly reveals its composer's fondness for the sweetness and sentiment of the 19th century Russian 'romance' (art-song) tradition, Smirnov's music, while sometimes playing with such à la russe elements on its own surface, is far more concerned with the creation – beneath that surface - of often quite elaborate and mysterious forms of pattern-making. Listening to it, one is made strikingly aware of his careful construction of a nether world of what one might call shadowy half-familiar musical-rhetorical gestures, nearly always drained of or at least separated from their usual or typical emotional content.
The personal symbolic language which allowed him to think so distinctively in this way – where the surface of the music exists almost in a separate world from what is going on underneath – was developed by him over many years.
There were periods for example when Smirnov was fascinated by what several composers (including his close friend Sofia Gubaidulina) have called 'instrumental theatre', in which the different instruments obey their own laws and exist in their own worlds and at odd angles to one another – dancing around one another like marionettes.
He was also drawn not only by ciphers but by musical alphabets, whereby phrases and whole sentences of words might be embodied in notes. He was not the only composer to be intrigued by such a procedures in the later 20th century, as various (often controversial) musicological propositions concerning the techniques of Bach had put such speculations into the public domain a while before. What is distinctive about Smirnov's use of this way of generating musical ideas is how skilfully he exploited it to nurture those strange contradictions he loved so much, between the surface of the music and the gestural behaviour of the shadows beneath that surface.
Then again – especially in his Blake-inspired pieces – there was also his attraction to the idea of a connection between the visual and the non-visual. He was spell-bound by Blake's famous engraved books, where the hand-coloured illustrations exist in mysterious and numinous balance with the written words – often located in the centre of the page – so as to suggest an imaginary world neither one thing nor another but hovering somewhere in the silent space between the words and pictures. In a number especially of his later pieces, Smirnov seems to bend the music towards a beyond-musical world of shapes and colours, and it is hard to tell where illustration stops and meaning begins.
Different, but equally important, was the way throughout his life that Smirnov was deeply and sensitively responsive to other artists. In his youth, along with most of his colleagues and contemporaries, he wrote a good deal for the tight-knit community of specialist performers of new music that flourished in Moscow at that time. In that long-ago world, those who played new music and those who wrote it were closely bonded to one another, the more so as their collective work was consistently criticised and repressed by those who hung above them in the official order.
After Dima moved to the UK, he quickly discovered new performers in several countries who became friends and for whom he wrote music on every scale, from concertos to small pieces for individual instruments.
But it was perhaps above all within his family that he found the closest creative connections. He was intensely proud of the work of his artist son Philip and his daughter Alissa (composer, conductor, pianist and peerless performer of her father's music). And over the almost half a century of life shared with his wife Elena Firsova, this remarkable pair were not simply married to one another but ceaselessly writing and thinking and feeling music in a dialogue that, as they both noted, was sometimes self-aware but more often instinctive and unconscious. There can have been very few examples in history of two composers, in some ways similar but often very different, who so tightly interwove their contrasted creative lives in such a remarkable way.
© Gerard McBurney, 2023
(Composer, orchestrator, writer, broadcaster, deviser, reconstructor of lost and forgotten works by Shostakovich.)