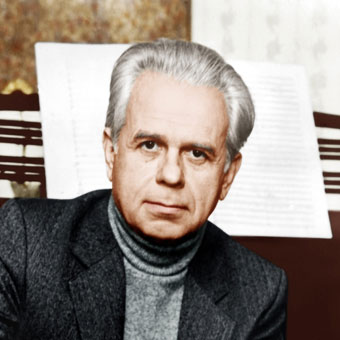 Edison Denisov
b. 6 April 1929, Tomsk, Siberia, USSR
d. 24 November 1996, Paris, France
Edison Vasil'evich Denisov, one of the most influential Russian composers of his generation, was born on 6 April 1929 in Tomsk, Siberia. His father was an engineer and his mother a doctor. He studied mathematics, before moving, encouraged by Shostakovich, to the Moscow Conservatory in 1951. After graduation in 1959 he began to teach analysis and orchestration, but, despite repeated requests, it was 30 years before he was officially allowed to teach composition. Unofficially he quickly gathered younger students around himself, introducing them to new pieces from Russia and abroad. This work was to have vital influence on the history of modern Soviet music.
Denisov's boundless curiosity about what was happening outside the closed world of Soviet music was first awoken in the late 1950s. He soon discovered what were to remain his principle fascinations: French music, the Second Viennese School, and the postwar avant-garde of Boulez and Stockhausen. In 1964 he wrote The Sun of the Incas, a chamber cantata which stridently announced the appearance of a modernist on the conservative Soviet scene.
After several notable essays in a post-Webernian idiom, including 3 pieces for piano 4 hands (1967) and the brilliant String Trio (1969), in 1970 Denisov wrote Peinture for orchestra, in which he at last felt he had found his own language. Soon he was embarked on a substantial series of concertos for virtuoso performers, including a lyrical Flute Concerto (1975) for Aurèle Nicolet, a more robust Violin Concerto (1977) for Gidon Kremer, and a colourful Concerto for Flute and Oboe (1979) for Nicolet and Heinz Holliger. A more melancholy side to Denisov's nature can be found in Tod ist ein langer Schlaf (1982), for cello and strings, and the Requiem (1980), which Denisov himself considered one of his most successful achievements.
Fascination with French culture led him to the writings of Boris Vian on whom he based the cantata La Vie en Rouge (1973) and the lavish and Duke-Ellington-haunted opera L'Ecume des Jours (1981). In response, the French took him to their hearts, giving the opera its 1986 premiere at the Opéra-Comique, commissioning the massive Symphony No.1 (1987) and, in Denisov's troubled last years of illness, supporting expensive medical treatment and giving him and his young family a second home in Paris.
For all his absorption in modern Western music, Denisov was deeply loyal to his Russian roots. This is especially reflected in his several song-cycles for voice and piano, including Your Sweet Face (1980, after Pushkin) and On the Snowy Bonfire (1981, after Blok), in which he revived in his own terms the 19th century song-traditions of Glinka and Mussorgsky.
In 1992, fired by newly awoken religious feelings, Denisov wrote The Story of the Life and Death of our Lord Jesus Christ, an hour-long oratorio for soloists, chorus and orchestra. Thereafter, despite painful ill-health, he continued composing prolifically, completing a Symphony No.2 only months before his death in Paris in 1996.
Edison Denisov is published by Boosey & Hawkes.
This biography can be reproduced free of charge in concert programmes with the following credit: Reprinted by kind permission of Gerard McBurney/Boosey & Hawkes