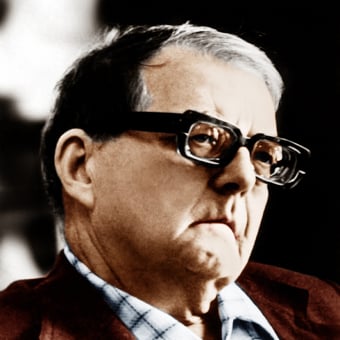 Dmitri Shostakovich
1906 - 1975
An Introduction to the music of Dmitri Shostakovich
by Gerard McBurney
Dmitri Shostakovich is regarded by musicians and audiences alike as one of the most important and powerful composers of the 20th century. His music reflects his own personal journey through some of the most turbulent and tragic times of modern history. Even in his own lifetime many of his works established themselves internationally as part of the standard repertoire, and since his death his fame has increased year by year. Nowadays most of his 15 symphonies, the entire cycle of 15 string quartets, his 24 Preludes and Fugues for piano and his opera Lady Macbeth of Mtsensk, have come to occupy a central place in the experience of music lovers.
And yet Shostakovich, a hugely prolific composer, wrote vast amounts of other music that is still hardly known. And much of it reflects sides to his character - humorous, sarcastic, absurd, funny, theatrical, deliciously tuneful - quite different from the dark and tragic mood most people associate with his name.
In particular, when he was young, Shostakovich produced a stream of music for the theatre and cinema: operas, operettas, ballets, music-hall shows, incidental music for all kinds of plays from Shakespeare to propoganda, live music for silent cinema, recorded scores for early sound-movies, even an enchanting children's cartoon-opera. Much of this is music in a lighter or more popular vein, sparkling like champagne and a treat for musicians and audiences. It richly deserves to be heard and fascinatingly deepens our sense of the achievement of this remarkable artist.
Gerard McBurney, 2000
(Composer and broadcaster with a specialist interest in 20th century Russian music)