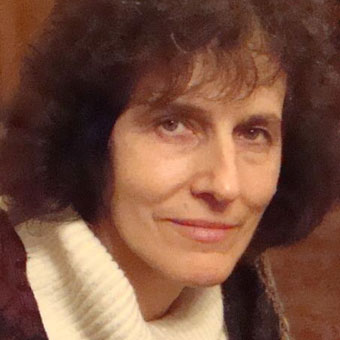 Elena Firsova
b. 21 March 1950, Leningrad
Elena Firsova was born in Leningrad on 21 March 1950 into a family of physicists. She made her first attempts at composition at the age of twelve, and formal studies began in 1966 at music college in Moscow and continued from 1970 to 1975 at the Moscow Conservatoire where her teachers were Alexander Pirumov (composition) and Yury Kholopov (analysis).
In 1975 she established contact of a crucial importance with Edison Denisov, one of the leading figures of Soviet contemporary music. Her music was first featured outside the Soviet Union in 1979, in Cologne (Sonata for solo clarinet and Petrarca's Sonnets), Paris and Venice (Petrarca's Sonnets). The following year Petrarca's Sonnets was performed in London by Jane Manning and the London Sinfonietta conducted by Peter Eötvös.
Earthly Life, one of many works by Firsova setting the verse of Osip Mandelstam, was commissioned by the BBC and premiered in London in November 1986 by Penelope Walmsley-Clarke and the Nash Ensemble conducted by Lionel Friend. The work established Firsova's reputation in the UK and has led to two further Mandelstam cantatas written for the Nash Ensemble: Forest Walks (1987) and Before the Thunderstorm (1994).
Firsova's music has been included in Soviet seasons at the Bath Festival in 1987, the Almeida Festival in 1989, the South Bank Centre's Russian Spring Festival in 1991, and the Philharmonia Orchestra's Music of Today series in 2001. Recent orchestral works include Augury commissioned by the BBC Proms for the BBC Symphony Orchestra under Andrew Davis, and Cassandra written for the BBC National Orchestra of Wales and recorded on BIS Records. Recent chamber works have included the latest in her series of ten string quartets written for the Britten, Danish, Smith and Brodsky Quartets.
Elena Firsova was married to the composer Dmitri Smirnov (1948–2020). Since they took up residence in the UK in 1991 they have become increasingly active in the British musical scene, combing composing with teaching.
Elena Firsova is published by Boosey & Hawkes.
April 2001
This biography can be reproduced free of charge in concert programmes with the following credit: Reprinted by kind permission of Boosey & Hawkes