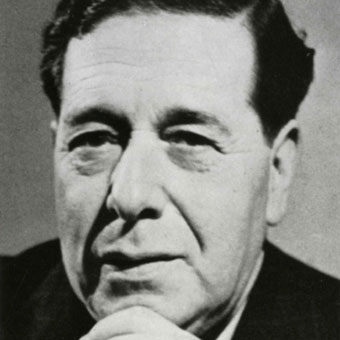 Arthur Benjamin
b. 18 September 1893, Sydney
d. 10 April 1960, London
Arthur Benjamin was born in Sydney, Australia, on 18 September 1893 and received his earliest education in Brisbane. Even as a boy, he was determined to pursue his musical training in London, and in 1911 he achieved his aim, studying composition with Sir Charles Villiers Stanford and piano with Frederick Cliffe. At the outbreak of war in 1914 Benjamin joined the army, later transferring to the RAF. His wartime service was curtailed when his plane was shot down and he was captured. Demobilised on the return of peace, he travelled home to Australia, where he began to compose in earnest. But he soon found the atmosphere too restrictive, and in 1921 returned to England.
Although his First String Quartet (Pastorale Fantasia) was awarded a Carnegie Prize in 1924, Benjamin's reputation was established initially through teaching: in 1926 he took up a professorship of piano at the Royal College of Music, where his students included the young Benjamin Britten. Benjamin's compositions began to make an impact from the early 1930s onwards, particularly with his Violin Concerto (1932) and a comic opera, The Devil Take Her (1931), which enjoyed the championship of Sir Thomas Beecham.
In addition to his popular Overture to an Italian Opera (1938), Benjamin composed a number of light-music pieces, and it was one of these, the Jamaican Rumba, published in 1938, that brought him popular acclaim, making him something of a household name – so much so that the Jamaican government assigned him a free barrel of rum a year for his contribution to making the country known.
Benjamin was much attracted to writing for the stage, composing a second opera, Prima Donna, in 1933, although it had to wait until 1949 for its premiere. His next essay in the genre was a more serious affair: A Tale of Two Cities, was commissioned by the Arts Council in conjunction with the Festival of Britain and premiered by the BBC in 1953. Three years later a television opera, Mañana, followed, and at his death on 10 April 1960 Benjamin left an unfinished fifth opera, based on Tartuffe; the scoring was completed and the work produced in 1964.
Among Benjamin's other notable scores are a symphony, first performed at the Cheltenham Festival in 1948 and recently recorded on the Marco Polo label; Elegy, Waltz and Toccata for viola and orchestra, also a Cheltenham premiere (in 1949), a Concerto quasi una Fantasia for piano and orchestra (1950, recorded by Benjamin's piano student, Lamar Crowson), a Romantic Fantasy for violin, viola and orchestra (premiered by Jascha Heifetz and William Primrose in 1938) and a harmonica concerto for Larry Adler (first performed in 1953). Another work that brought considerable success was the oboe concerto, arranged in 1942 from keyboard sonatas of Domenico Cimarosa, which has succeeded in maintaining a place in the repertoire.
Benjamin was equally active as a writer of music for films, beginning in 1934 with The Scarlet Pimpernel, an adaptation of music from the Napoleonic era, and Hitchcock's The Man Who Knew Too Much, for which Benjamin composed an extended Storm Clouds Cantata. Around a dozen more film scores were to follow between then and 1957, including The Ascent of Everest, one of his most successful. In addition to his composing activities, Benjamin was a conductor of note: he was engaged at the helm of the Vancouver Symphony Orchestra for five years (1941–46).
Arthur Benjamin is published exclusively by Boosey & Hawkes.
This biography can be reproduced free of charge in concert programmes with the following credit: Reprinted by kind permission of Boosey & Hawkes