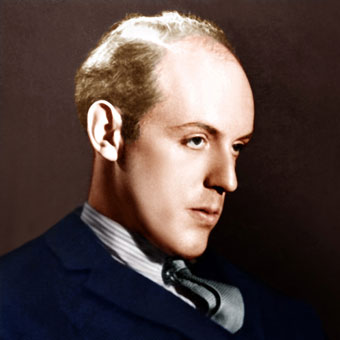 Howard Ferguson
1908 - 1999
An introduction to Ferguson's music
by Andrew Burn
There are few musicians who have enjoyed equal distinction in fields as varied as composition, performance and musicology, and whose music has enjoyed the advocacy of artists of the calibre of Myra Hess, Harold Samuel, Jascha Heifetz and Kathleen Ferrier. One such is Howard Ferguson.
Born in Belfast on 21 October 1908, he was heard playing as a 13-year-old at the Belfast Musical Competitions by Harold Samuel who persuaded his parents to let the boy come to London to study with him. Later, on entering the Royal College of Music, Ferguson worked at composition with RO Morris and conducting with Malcolm Sargent while continuing to study the piano privately with Samuel. On leaving the RCM, he divided his time between composition and playing chamber music, and began to be known as a composer following the publication of works including his Octet op.4.
During World War II he was associated with Myra Hess in organising the daily chamber concerts at the National Gallery in London and in those years formed long-lasting duo partnerships with Denis Matthews and Yfrah Neaman. From 1945 to 1963 he taught composition at the Royal Academy of Music, where his pupils included Richard Rodney Bennett, Susan Bradshaw and Cornelius Cardew.
By the early 1960s Ferguson felt that he had said all he had to say as a composer and made the courageous decision to stop writing. Since then he has devoted himself to musicology, producing among other things scholarly editions of early keyboard music and the complete piano works of Schubert.
Since he was always a slow worker, his compositions are comparatively few; yet within the 19 opus numbers the level of inspiration is consistently high; and all his works are marked by impeccable craftsmanship. His personal idiom, which emerged at the outset and changed little, may be described as 20th-century romantic.
The early Octet exemplifies other features of Ferguson's music: the allegiance to Classical structures both formally and harmonically and the use of a recurring theme to give a cyclic quality to the whole. Its second movement, a reel-like scherzo, is one of the few instances in Ferguson's music which hints at his Irish ancestry. The Octet is the largest of his chamber works; its continued presence as a standard repertory work for ensembles like the Melos and Nash for over half a century testifies to its quality.
His chamber music also includes two violin Sonatas. The First op.2 was frequently performed by Heifetz, who recorded it, and the Second op.10, one of Ferguson's finest works, has also been widely played. On a smaller scale, the Four Short Pieces op.6 for clarinet or viola and piano, and the Three Sketches op.14 for flute or recorder and piano, have proved popular with professional and amateur alike, and are well within the range of the average player.
It was a work for his own instrument which con-solidated Ferguson's reputation at the beginning of the 1940s, the Piano Sonata in F minor op.8. Dedicated to the memory of his friend and mentor Harold Samuel, it is a work of tragic grandeur and arguably his most personal statement. The sonata was recorded by Myra Hess in 1943, and it was this great artist who also gave the premiere of the Five Bagatelles op.9. These are unusual in that each is based on a group of notes suggested by a friend, the South African composer Arnold van Wyk.
The most ambitious of his orchestral works is the Partita op.5, which was also published in a version for two pianos. Its four movements are related to early suite forms, namely the French Overture, courante and sarabande, with a reel to replace the customary gigue. The Concerto for Piano and Strings op.12 is the only work of Ferguson to come near the orbit of his friends Finzi and Vaughan Williams, and has as its centre a particularly fine set of variations. The Four Diversions on Ulster Airs op.7 and the Overture for an Occasion op.16 were BBC commissions that fulfilled their purposes aptly and effectively. Both are within the capabilities of most amateur and youth orchestras.
There are four sets of songs, of which the Two Ballads op.1 for baritone and orchestra are early indications of Ferguson's fondness for medieval poetry, while the Irish Folksongs op.17 are settings of five traditional tunes from his native Ulster. The song-cycle Discovery op.13 for high voice, is to poems by Denton Welch, the young writer who died so tragically in 1948, and whose work is currently enjoying revival. Though the cycle's five songs are brief - the fourth, the macabre 'Jane Allen' lasts only 30 seconds - they are sharply contrasted in mood. The cycle was performed by Kathleen Ferrier and memorably recorded by her.
Two large scale choral and orchestral works written for the Three Choirs Festival complete Ferguson's compositional output: Amore Langueo op.18 and The Dream of the Rood op.19. Both set medieval words and drew from Ferguson some of his most inspired melodic invention, as confirmed by their recent release on CD. For choruses seeking rewarding, unusual works to mix with standard repertoire here are two attractive choices. Happy is the composer who can crown a compositional career with works so effortlessly lovely as these.