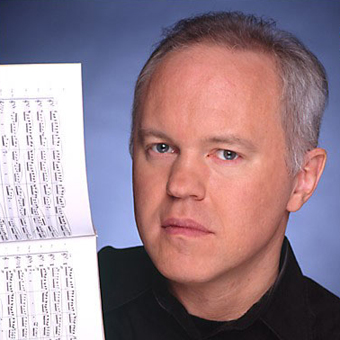 Michael Torke
b. 22 September 1961, Milwaukee
The music of Michael Torke has been called "some of the most optimistic, joyful and thoroughly uplifting music to appear in recent years" (Gramophone). Hailed as a "vitally inventive composer" (Financial Times) and "a master orchestrator whose shimmering timbral palette makes him the Ravel of his generation" (New York Times), Michael Torke has created a substantial body of works in virtually every genre, each with a characteristic personal stamp that combines restless rhythmic energy with ravishingly beautiful melodies.
By any measure, Torke is one of the most successful composers of his generation as well, as evidenced by two large-scale, high-profile pieces that premiered during 1999. Strawberry Fields, a one-act opera jointly commissioned by Glimmerglass Opera, New York City Opera, and WNET's "Great Performances" television program (PBS) made its debut at Glimmerglass in July to widespread critical acclaim. Four Seasons, a 62-minute symphonic oratorio for vocal soloists, two choruses, and large orchestra was commissioned by The Disney Company in celebration of the new millennium; Kurt Masur conducted the New York Philharmonic in the work's premiere in October, to equally rousing response.
One of Torke's most frequently performed orchestral pieces is Javelin (1994), a "sonic olympiad" commissioned by the Atlanta Committee for the Olympics in celebration of the Atlanta Symphony Orchestra's 50th anniversary season. In the spring of 1996, two different recordings of Javelin were simultaneously released a rare occurrence for a contemporary composition. The first recording, featuring the Atlanta Symphony Orchestra under Yoel Levi, was the fourth all-Torke CD to be released by Decca's Argo label. The second recording is on Sony Classical's Summon the Heroes, the official centenary Olympics album featuring the Boston Pops conducted by John Williams, which reached the Number One position on Billboard's Classical Crossover chart.
Vocal music has played a prominent role in Torke's recent output. In Four Proverbs (1993) for female voice and ensemble, Torke manipulates words in the same way that he has manipulated thematic cells in his earlier works and, in so doing, creates a unique symbiotic relationship between language and music. This technique is further explored in Book of Proverbs (1996), for soprano, baritone, chorus and orchestra, which received its world premiere in Holland in September 1996 with the Netherlands Radio Philharmonic and Choir conducted by Edo de Waart.
With two of his most widely-performed works, Ecstatic Orange and The Yellow Pages (both written in 1985 while Torke was still a composition student at Yale), Torke practically defined post-minimalism, a music which utilizes the repetitive structures of a previous generation to incorporate musical techniques from both the classical tradition and the contemporary pop world. From these initial kinetic scores, Torke's music has developed toward larger, more expansive forms allowing for greater textural variation and longer, sweeping themes. Over the past decade, Torke's vibrant music has strongly appealed to choreographers including: Ulysses Dove (Alvin Ailey, New York City Ballet), James Kudelka (San Francisco Ballet), Jiri Killian (Netherlands Dance Theater), Glenn Tetley (Royal Ballet, Covent Garden) and Peter Martins (New York City Ballet), who has choreographed seven of Torke's compositions to date (four of which were NYCB commissions). May 2002 brought the premiere of Torke's first full-evening story ballet, The Contract, choreographed by James Kudelka for the National Ballet of Canada.
In 1997 Torke was appointed the first Associate Composer of the Royal Scottish National Orchestra. One of the first highlights of his residency came in March 1999 with the U.K. premiere of Book of Proverbs. The orchestra also commissioned two new works: Rapture, a percussion concerto for the young Scottish percussionist Colin Currie, and An American Abroad, a tone-poem that made its debut in February 2002 under the baton of Marin Alsop. Those pieces were later recorded by the RSNO under Alsop in an acclaimed release on the Naxos label.
In 2003, Torke acquired the rights to re-issue the complete Decca/Argo recorded catalog of his works, and founded Ecstatic Records. Later that year, the boxed set of those complete recordings was selected by The New York Times as one of the top Classical albums of the year. Torke is now at work on a musical, House of Mirth, workshopped at the Sundance Theater Lab at White Oak, with lyrics by Mark Campbell, book by A. R. Gurney, and directed by Bart Sher. 2005 brings The Italian Straw Hat, a full evening farce for ballet, commissioned by the National Ballet of Canada, with choreography by James Kudelka, and sets and costumes by Santo Loquasto.
This biography can be reproduced free of charge in concert programmes with the following credit: Reprinted by kind permission of Boosey & Hawkes