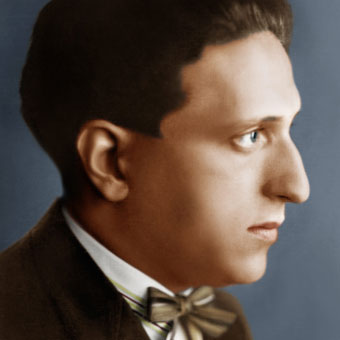 Pavel Haas
b. 21 June 1899, Brno
d. 17 October 1944, Auschwitz
Pavel Haas was born into a family of Czech-Jewish merchants in the Moravian city of Brno on 21 June 1899. He grew up and lived there until his deportation to Theresienstadt in December 1941. Haas began his study of music at the Brno conservatoire in 1919; from 1920-22 he also benefitted concurrently from the tuition of Leo Janácek. The development of his personal style was strongly influenced by his teacher. He combined the neo-Classicist techniques of Stravinsky with a very personal adaptation of jazz elements as well as the melodic and harmonic features of both Czech folk music and Jewish synagogue music. Janácek made his students familiar with the highly demanding treatment of melody and harmony in Moravian folk music as a source of inspiration for the design of themes in all compositional genres. The setting of the spoken word to music and its melodic and rhythmic elements features in the works of Pavel Haas as significantly as it does in Janácek's, for whose style they were an essential component. Haas's music reflects his own personality in its mixture of humour, subtle irony, a profound level of thought and elegance. These character traits later came to be darkened by his internment in Theresienstadt.

Before Haas released his Six Songs in Folk Tone (1919, arranged for orchestra in 1938) as his opus 1, he had written about 50 juvenilia. The self-critical approach towards his own work, which he maintained throughout his life, is highlighted by the fact that he only gave opus numbers to 18 out of the works he wrote after his op 1 which numbered around 50 in total. A love affair which was thwarted due to social conventions formed the biographical background to two major works he wrote whilst he was studying: the Scherzo Triste op.5 for orchestra (1921) and Fata Morgana for tenor and piano quintet based on texts by Tagore (1923). The String Quartet No.2 op.7 "From the Monkey Mountains" (1925) marked a highpoint of his works in the twenties; the last movement ("Wild Night") includes a percussion part for the first time in the history of the genre. As critics failed to accept this alleged lack of respect, Haas provided a revised version without percussion. For the theatre in Brno, Haas composed the music for a number of stage works; for his brother, Hugo, a popular actor and film director, he wrote several film scores. However, it was not until his tragicomic opera, The Charlatan (written 1934-37) was completed that his talent for the stage became fully apparent. The opera, which had its successful first performance in Brno in 1937, placed the subject matter of Dr. Eisenbart in a Czech setting. (After the Munich agreement of 1938, the opera had to be taken out of the repertoire and was not performed again before 1999 when it was presented at the Wexford Opera Festival in Ireland.) Haas's enthusiasm for the new medium of radio resulted in the Overture for Radio op.11, written in 1931.

In 1935, urged on by his wife, the physician Sona Jacobsonová, and encouraged by the enduring success of his Suite for Piano op.13 (1935), Haas left his parents' business, which he had run until then, and devoted his whole time to composition. Some of the works he wrote during the thirties, including the String Quartet No.3 op. 15 (1938) and the Suite for Oboe and Piano op.17 (1939), are chamber music masterpieces. The orchestration of the Symphony he had begun to write in 1940 could not be completed because of his deportation to Theresienstadt. (Completed by Zdenek Zouhar, it was premiered in Weimar in 1998.) Of the at least eight works Haas wrote at Theresienstadt up to October 1944, three have survived. The Four Songs to Words of Chinese Poetry for bass (or baritone / mezzo soprano) and piano (1944) are, in their grief-stricken and desperate as well as immensely powerful expressiveness, one of the most impressive of his 'late' works. It is also the last existing piece he wrote. Al Sefod ("Do not mourn") is a piece for male choir to words by David Shimoni (1942), and the Study for String Orchestra (1943) is one of his most frequently played works today. It survived thanks to the initiative of the conductor Karel Ancerl, who was also interned at Theresienstadt and had performed the work several times in the camp. Although the scores were lost, Ancerl managed to find the orchestral parts in the camp after the war.

Together with the composers Hans Krása and Viktor Ullmann, Pavel Haas was deported to Auschwitz in October 1944 where he was killed in the gas chambers.


The works of Pavel Haas are published by Bote & Bock in cooperation with TEMPO Prague.
This biography can be reproduced free of charge in concert programmes with the following credit: Reprinted by kind permission of Boosey & Hawkes