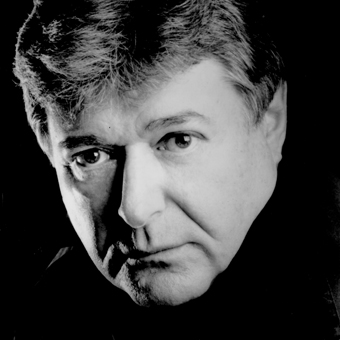 Marvin David Levy
b. 2 August 1932, Passaic, NJ
d. 9 February 2015, Fort Lauderdale, FL


In 1960 Leonard Bernstein wrote Marvin David Levy, then in his mid-twenties, how "deeply impressed" he was with the composer's setting of W. H. Auden's Christmas Oratorio, FOR THE TIME BEING. "I find a new young Britten lurking in you, and I think that before you are through you'll make opera history."





On March 17, 1967, Leonard Bernstein sat in the young composer's box at the Metropolitan Opera attending the world premiere of MOURNING BECOMES ELECTRA. He wrote Levy the next day, calling the opera "a tremendous achievement, a remarkable work, stunningly performed." United Press International sent its news of the "long-awaited great American opera" around the world. Seven years later. Bernstein's prediction had come true.





"Tremendous - the finest American opera yet staged by a major company. [Levy] reminds one most of Benjamin Britten, especially...PETER GRIMES. But [ELECTRA] is a much finer work than that one. You will not forget his Christine and his Lavinia any sooner than you will forget the Clytemnestra and the Elektra of Richard Strauss. Levy's great gift - and it is one he possesses almost alone among American composers of opera - is his ability to compose a vocal line which is at once melodically expressive and dramatically significant. The vast majority of American composers content themselves with the mere underlining - or exaggeration - of the rhythms and intonations of the text when spoken. Levy's declamation is natural and unforced but achieves musical subtlety, suppleness and expressivity too." (Alfred Frankenstein, The San Francisco Chronicle.)





"[Levy's] work is that of a thoroughly assured master of the medium. The sounds he creates are of a beauty rare in American opera. 'How death becomes the Mannons!' Thus begins one of the great scenes in the second act .The entire second act of the opera is superb in its unrelieved realization of the complex horrors that lie at the heart of O'Neill's famous version of the Aeschylus tragedy. It demonstrated with a brilliance inconceivable to the many who have not yet [seen or heard the opera] the vast strength with which the Metropolitan produced the finest American opera yet to come to its stage." (Paul Hume, The Washington Post)





"The joy of [the play as opera] is that [Levy] has succeeded brilliantly. The Metropolitan premiere was a major triumph not only for the house but for the American operatic stage. Levy has mastered an electric vocabulary which can be expressive or expressionistic at will. He is, in fact, trilingual to an astonishing degree, functioning masterfully in verbal, theatric, and musical languages ... In the final analysis it is Levy's score which filled the O'Neill vision and brought 'man's hopeless hopes' to tragic life. The music projected the manifold perversity of the Mannon madness with clarity and chilling precision Fully the equal of Britten's TURN OF THE SCREW...[it] should show the lyric theater a path toward a better future." (Thomas Willis, The Chicago Tribune)





The work was commissioned by the Metropolitan for the opening season of its new house at Lincoln Center. Based on the play by Eugene O'Neill, the libretto was adapted by Henry Butler. After the 1967 premiere it remained in the repertory for several seasons before moving on to European stages. The composer had become internationally famous overnight, "a major force in the lyric theater." (Tim Smith, Ft. Lauderdale Sun-Sentinel)





Now after about thirty years during which, according to the New Grove Dictionary of Opera, MOURNING BECOMES ELECTRA has attained "legendary" status, opera buffs as well as opera companies are taking note of plans for its revival. It was scheduled in 1996 by the late Ardis Krainik, General Director of Lyric Opera of Chicago, as part of her contemporary opera initiative, Toward the 21st Century. The company will mount a new production of the opera in October, 1998. The work, with a cast of 8 (no chorus), has undergone a complete revision. It will be recorded after that. Several reduced orchestral versions have been made: for large theaters, 70/60 players; for moderate-size theaters, 50/40, permitting most companies the possibility of including the work in their repertories.


While still in college Levy began another career, that of an opera administrator and director with The American Opera Society for ten years (1952-62). He eventually became the assistant to Director Allen Sven Oxenburg, involved in all management and artistic policies. This much acclaimed New York company was unique in the rediscovery not only of neglected masterpieces, but of major segments of entire periods, such as the "bel canto" operas, many of which have since joined the standard repertory. Young singers as yet unknown in major American houses made their debuts with the Society, such as Farrell, Vickers, Horne, Sutherland, Schwarzkopf, Caballé - the list goes on. Many of those live performances are available today on pirated recordings without reference to the Society. In 1962 Levy won a Rome Prize Fellowship and left the Society to live in Italy. Apart from his work on ELECTRA while there, he also had the chance to hear European performances of some earlier works by the RAI Orchestra Roma and others in England and Germany during those years.





His administrative career took a secondary place to his music writing, though he was to spend a certain amount of time in its service. He returned to New York to form Marathan Enterprises, a popular artist management company, with lawyer-colleague Nathan M. Weiss, whose clients included James Taylor and The Beatles. During that time he was also consultant to theater, cinema (HAIR) and television (A WOMAN NAMED JACKIE) producer, Lester Persky. He even wrote background music for television commercials for the late Martin Himmel, whose business and philanthropic foundation continue to function. These "business" experiences served him well when he helped to create the Ft. Lauderdale Opera from the existing local Opera Guild. As Artistic Director from 1989 to 1994, he "transfigured"South Florida's opera scene with "the most satisfying, enriching opera experiences in the past ten years." (Tim Smith, Sun-Sentinel). He formed a unique alliance between the company, local performing arts schools and the Board of Education to help bring opera into the lives of students and developed a variety of outreach programs for the community. In 1994 The Greater Miami Opera assumed management of the Opera Guild. With the merging of the two organizations the Ft. Lauderdale Opera ceased independent operations and the consolidated regional company became Florida Grand Opera.





Levy's principal music composition teacher was Otto Luening (1900 -1996), Columbia University Graduate School. Beginning piano lessons at an early age with his aunt, he continued as a teenager with Carl Friedberg of The Juilliard School. He completed a liberal arts education at New York University, majoring in music under Philip James, with English and Philosophy minors. During these student years he began work as an apprentice stage director at summer music-theater workshops where he was soon directing full productions ranging from MY FAIR LADY to CARMEN. After an honorable discharge from the U.S. Naval Reserve, he directed several of his own operas - THE TOWER, written for the opening season of the Santa Fe Opera, being his first. No less influential in his early development were the concerts, operas, and Broadway theater productions to which his family exposed him in New York throughout his childhood. He was born only some twenty miles away at St. Mary's Hospital in Passaic, New Jersey. His father had also been born there of Russian/Jewish immigrants. His mother had come from London, a British subject of Spanish, German, Polish heritage.





He has been a music writer for some leading publications, including Opera News, Musical America, The New York Herald Tribune. Apart from guest lecturing, he taught at Brooklyn College/CUNY as Associate Professor of Music from 1974 to 1976, teaching music history, opera history, orchestration and composition. As in past years he continues to be a frequent judge on many instrumental and vocal awards panels both in Florida, where he has lived for the past twelve years, and elsewhere around the country.





The composer has been awarded two Prix de Rome Fellowships (1962, 1964) - the piano/vocal score of MOURNING BECOMES ELECTRA was written in Italy - and two Guggenheim Fellowships (1960, 1964). Grants have included residency at the MacDowell Colony (1958), where he wrote FOR THE TIME BEING; Walter Damrosch Fellow at the Huntington Hart-ford Artists Colony (1961); Ford Foundation Grant (1961), which provided funds to the Metropolitan Opera to commission the work, which was also supported by grants from the Lucy Moses Foundation and the Christian Humann Foundation; other grants from the National Endowment for the Arts (1970,1974). He was presented the Scroll of the City of New York for Distinguished and Exceptional Service by then Mayor John V. Lindsay (1967), citing his "eloquent contributions to the cultural life of the city" at a ceremony officiated by the Mayor at City Hall the morning of the opera's premiere.





Marvin David Levy's principal activity as a composer has been in the area of vocal music. Among his works for the stage are three one-act operas: THE TOWER (1957), a comic biblical fable composed for Santa Fe Opera, which gained him national recognition for the first time as a composer at age 24, the world premiere having taken place on his birthday, August 2, and more recently seen in Cincinnati in the 1980's. "Not afraid of melody, Levy has respect for the voice and writes for it not only with skill but also with sympathy." (Howard Taubman, The New York Times)


SOTOBA KOMACHI (1957), based on a Japanese Noh play, last performed in London several years ago; and, based on the tragicomedy of Michel de Ghelderode, ESCORIAL (1958), a work that caught the imagination of opera cognoscenti worldwide "Levy writes with uncommon facility and imagination." (Donal Henahan, Chicago Sun-Times). A few years after the first New York performances of ESCORIAL, Sherrill Milnes, then a young student about the composer's age, appeared in this opera in Chicago, a fact unknown to Levy until Milnes was engaged by the Met and cast in a leading role for his next opera.





Other vocal compositions include the above mentioned full evening Christmas Oratorio/Pageant, FOR THE TIME BEING (1959), text by W.H. Auden, for soloists (Reri Grist, Lucine Amara, Maureen Forrester, Robert Rounseville, Martial Sin-gher, Ezio Flagello, and Claude Raines, narrator), chorus and orchestra (Collegiate Chorale, Symphony of the Air), the first performance of which took place at Carnegie Hall under the direction of Margaret Hillis, director of the American Choral Foundation and founder, at the request of Fritz Reiner, of the Chicago Symphony Orchestra Chorus ("...a remarkably sincere and direct affair, Levy speaks with a fresh, unaffected voice and at his best is a composer of uncommon elo-quence" - Winthrop Sargeant, The New Yorker). Choral excerpts from this work continue to be performed worldwide. One of these, OUR FATHER, was recently chosen by the Texas Music Educators Association as a competition piece for Texas High Schools in selecting an all-state chorus of 200. A recording of it as part of the annual Texas All-State Choir concert was released in 1996. He wrote a SACRED SERVICE (1964) for the Park Avenue Synagogue, but his most ambitious choral work is MASADA, a large-scale dramatic oratorio/pageant for tenor, speaker, chorus and orchestra. The first version was commissioned and presented by the National Symphony Orchestra under Antal Dorati with Richard Tucker, for whom it was written, and George London, in 1973 at Kennedy Center in Washington, D.C. It was almost entirely re-written for the Chicago Symphony Orchestra and Chorus, where the first performance of the complete work took place in 1987 with Gary Bachlund and Yael Dayan directed by Margaret Hillis. "A major achievement heard in a remarkable performance." (Paul Hume, The Washington Post.) "Monumental new work, most impressive...significant. Levy is a powerful and distinctive voice in American music today." (Robert Marsh, Chicago Sun-Times). Byron Belt, in his syndicated Newhouse News column called it "agonizingly powerful." MASADA was broadcast nationally the following year.





Aside from ELECTRA'S FAREWELL, a concert arrangement of soprano scenes from the opera, other vocal-orchestral works of his include ONE PERSON (1962), adapted from poetry of Elinor Wylie, for mezzo and orchestra, commissioned and performed by Maureen Forrester with the Symphony of the Air at Carnegie Hall. His CANTO DE LOS MARANOS (1978) was first heard with Phyllis Bryn-Julson and the San Francisco Symphony, Phillipe Entremont conducting, followed by SINCE NINE O'CLOCK (based on Cavafy poetry), for voice and piano or orchestra in 1977. Over the last recent years he has written more the 25 popular songs, some currently being published in choral arrangements.





Chamber works with voice include some early songs for mezzo and oboe on poems of Edna St. Vincent Millay; THE ECHOES (1956), poetry by Gerard Manley Hopkins, for soprano and chamber ensemble, first heard in a live radio performance on WNYC, John Crosby conducting. Other small vocal works include ALICE IN WONDERLAND (1965), four choruses with bassoon or cello and IN MEMORIAM W. H. AUDEN (1974), the year the poet died, for voice and chamber orchestra, first performed at New York's Town Hall with Paul Sperry and the St. Paul Chamber Orchestra conducted by Dennis Russell Davies. Instrumental chamber music includes an early STRING QUARTET (1955), RHAPSODY (1956) for violin, clarinet and harp, HASIDIC SUITE (1956) for horn and piano. He also provided incidental music for films, including THE NEIGHBORING SHORE, winner of the 1960 Venice Film Festival Award, and plays, including the Restoration comedy, Farquhar's THE RECRUITING OFFICER, with Peter Falk. In 1968 Michael Cacoyannis, who had directed MOURNING BECOMES ELECTRA one year earlier, asked him to compose incidental music for his Circle-in-the-Square production of IPHIGENIA IN AULIS starring Christopher Walken and Irene Papas. In the New York Times Clive Barnes praised the production as "great theater, its humanity and spirit heartbreakingly caught in a most moving production" in which much "atmosphere was created by Marvin David Levy's somber, lambently elegiac music."





For orchestra he has composed CARAMOOR FESTIVAL OVERTURE (1958), conducted by Julius Rudel at the Caramoor Festival, for which it was commissioned by Lucie Bigelow Rosen; SYMPHONY 1960, premiered by Alfred Wallenstein and the Los Angeles Symphony; KYROS (1961), commissioned by the La Jolla Music Festival, conducted by the composer. Irving Kolodin, music writer for The Saturday Review of Literature, happened to be in Rome in 1963 when that piece was first performed there and wrote that interest in the concert was heightened by knowing that the composer was working on an opera for the Metropolitan, saying that "the evidence of the score marks Levy as a man of fertile imagination, independent impulse, and considerable command of orchestral resource."


TRIALOGUS (1972), first conducted by Bruno Maderna with the Chicago Symphony Orchestra, led to a chamber orchestra version performed the following season by Eve Queler and the Boston Philharmonia. His PIANO CONCERTO (1970), which, according to Byron Belt of Newhouse News, "takes off where the last great romantic concerto ended and keeps


going on in a fresh, stimulating and utterly spellbinding manner," was first performed by Earl Wild and the Chicago Symphony Orchestra conducted by Sir Georg Solti, first in Chicago, then at Carnegie Hall in New York. "Levy is a real composer, and this absorbing work shows him to be the possessor of a keen ear and a stimulating - even at times an endearing picturesque - mind. His ideas have character, and his craftsmanship is equal to the task of communicating them." (Bernard Jacobson, Chicago Daily News)





The composer had written so many works on commission for so many years by then as to cause playwright Edward Albee, in a New York gossip column quip, to refer to him as "Marvin David Levy, the commissioner's composer."


In more recent years Levy has written two orchestra works, both commissioned and performed by the Florida Philharmonic. In 1988 James Judd conducted PASCUA FLORIDA - "playful, colorful, particularly appealing" - and ARROWS OF TIME, which opened the 1988-89 Philharmonic season. "His extraordinary sense of harmonic and tone color, rhythmic variety and wit, are everywhere apparent in the score - fascinating, gorgeous."(Tim Smith, Sun-Sentinel)





The composer's music was honored by being included in the 16th annual Richard Tucker Gala in 1991 at Avery Fisher Hall, Lincoln Center, a tribute to American music entitled "America the Beautiful: Celebration of Song, Opera and Musical Theater." Sherrill Milnes sang BRANT'S MONOLOGUE from ELECTRA, re-enacting the role of Adam Brant he created at the Metropolitan Opera premiere in 1967. James Conlon conducted the Met Opera Orchestra. Hosted by Leontyne Price, the concert was shown on public television nationwide on Christmas Day, 1992. A recording of it was released in 1993. Coincidentally, the same aria, recorded by Milnes in London with Anton Guadagno conducting soon after the opera's premiere, was recently re-released on the authorized six disc edition of RCA MET-100 SINGERS, 100 YEARS, in honor of the Met's centennial.





For about thirty years the composer has been an intermission panelist on the Texaco/Metropolitan Opera Quiz, broadcast live internationally during Saturday matinees. During the broadcast premiere of MOURNING BECOMES ELECTRA he discussed aspects of the opera on a special intermission feature with Evelyn Lear and John Reardon, hosted by Edward Downes. After a performance of such highly charged drama, radio listeners may have smiled with announcer Milton Cross' final words of the broadcast, though certainly unintentionally amusing: "And so the gold curtain falls on an afternoon of incest, adultery, murder and suicide. We hope you have enjoyed it."





Today more than ever Marvin David Levy is in the process of creating new music-theater works. A two-act musical, THE GRAND BALCONY, with his own book and lyrics, based on "Le Balcon" of Jean Genet, is now ready for a workshop read-ing. He is completing THE ZACHARY STAR, an original book, as well as his own lyrics and music, with a cast of adults and children - a family musical which is now ready for production in a one-act school version. More information about this short adaptation (vocal score and/or libretto) is available from the publisher. At present Florida Grand Opera is discussing the possibilities of his involvement with their education program. After the revival of MOURNING BECOMES ELECTRA, he will be at work on a major new opera, material for which he has already begun to research. More about this undertaking will follow as plans progress.





August 2, 1997, the composer's 65th birthday, was marked by a special tribute to him and his career broadcast on South Florida's classical music station, WTMI.