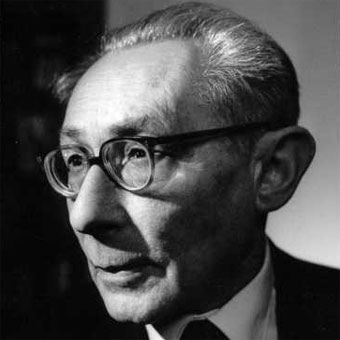 Hans Gál
b. 5 August 1890, Brunn am Gebirge, Vienna
d. 3 October 1987, Edinburgh
Hans Gál was born in Brunn am Gebirge near Vienna, in 1890, the son of a Viennese doctor. His musical talents were recognised early and he received piano lessons from one of the leading teachers in Vienna, Richard Robert. Alongside a teaching appointment at the New Conservatoire, he also studied musicology under Guido Adler at Vienna University, and composition under Eusebius Mandyczewski, who had belonged to Brahms' circle of friends. Although composing prolifically, and enjoying some notable success, Gál later destroyed most of his earlier output as unrepresentative. On the outbreak of the First World War, he was called up for military service but nevertheless continued to compose: the First String Quartet and the comic opera Der Arzt der Sobeide were both completed during these years. After the war, he made a decisive breakthrough with a second comic opera Die heilige Ente, which was premiered to great acclaim in 1923 under Georg Szell and was subsequently performed in some twenty opera houses, including in Berlin and Prague. The following ten years were among the most productive of Gál's life: he composed two further operas, Das Lied der Nacht and Die beiden Klaas (the latter fell victim to the Nazi ban on works of Jewish authorship and was never performed in his lifetime), as well as a number of other substantial scores including the large-scale choral work Requiem für Mignon, his First Symphony, a violin concerto and the Overture to a Puppet Play which became an internationally successful concert piece, receiving over a hundred performances. In 1929, Gál became director of the Conservatoire in Mainz and had generally established himself as one of the leading musical personalities in Germany. However, Hitler's accession to power in 1933 saw Gál stripped of this position and performances of his works prohibited. He returned to Austria where he managed to survive earning a living as a conductor and private teacher. However, when Hitler marched into Austria in 1938, Gál and his family, sensing the danger of the situation, fled to England.

At first, they settled in London but the family were unable to obtain work permits. A meeting with Sir Donald Tovey, however, led to an invitation for Gál to work in Edinburgh. His wife Hanna also found employment as a housekeeper and the family was finally able to put down roots. Gál began to compose again and involve himself with the musical life of the city, but in 1940 with the wartime arrests of all 'enemy-aliens', Gál found himself deported to internment camps in Huyton near Liverpool and on the Isle of Man. On his release, he began to pick up the pieces of his career. He became lecturer at Edinburgh University in 1945 and was one of the key figures in helping to establish the Edinburgh International Festival.

Although Gál continued to write several more large-scale works, including two more symphonies, he preferred to write with the prospect of immediate performance and many of his later works are written for solo instruments and chamber groups. He also wrote a number of books, including studies of Schubert, Schumann, Brahms, Wagner and Verdi. Official recognition came with the OBE in 1964 and honorary doctorates from Edinburgh and Mainz as well as the 'Litteris et Arbitus', the highest state honour from his native Austria. He died in October 1987 at the age of ninety-seven with most of his works lying unknown and rarely performed. However, in the wake of the recent revival of so-called 'Entartete Musik', the last few years have seen signs of an increasing interest in his work which has resulted in numerous performances, recordings and the publication of long out-of-print scores. Nevertheless, Gál's large output is still waiting to be accorded the serious attention and recognition it deserves.