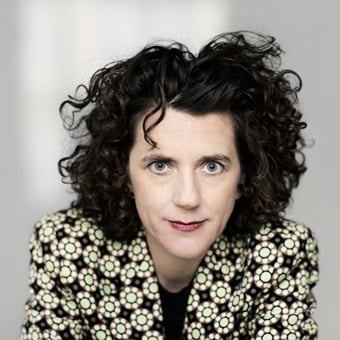 Olga Neuwirth
b. 4 August 1968, Graz, Austria
Trumpet lessons from the age of seven.
1985–86 Studies at the San Francisco Conservatory of Music (composition and theory with Elinor Armer) and at the San Francisco Art College (painting and film).
1987–93 Composition studies at the Vienna Hochschule für Musik und darstellende Kunst (College of Music and Interpretive Arts). Composition with Erich Urbanner (diploma and master's thesis: "On the use of film music in 'L'amour à mort' by Alain Resnais") as well as studies at the Electro-Acoustical Institute.
Olga Neuwirth received important impulses through contact with Adriana Hölsky, Tristan Murail, and Luigi Nono.
1993–94 Studies with Tristan Murail in Paris; participation in Stage d'informatique musicale at Ircam, Paris.
1994 Juror at the Munich Biennale for New Musical Theater; member of the Composers Forum of the Darmstadt Ferienkurse; "Publicity Prize" of the austro mechana for a CD production.
1996 Guest of the DAAD in Berlin.
Olga Neuwirth was featured in two portrait concerts at the 1998 Salzburg Festival within the framework of the "Next Generation" series.
1999 Promotional Prize of the Ernst von Siemens Foundation, Munich; Hindemith Prize of the Schleswig-Holstein Music Festival.
1999 Premiere of the first full-length opera "Bählamm's Feast" (libretto: Elfriede Jelinek after Leonora Carrington) at the Vienna Festwochen 1999; Neuwirth received the Ernst Krenek Prize for this work.
Neuwirth's work "Clinamen/Nodus," written for Pierre Boulez and the London Symphony Orchestra, was premiered in London in March 2000; it was subsequently heard on a worldwide tour, and is meanwhile available on CD.
2000 Composer-in-residence of the Royal Philharmonic Orchestra of Flanders, Antwerp.
2002 Composer-in-residence at the Lucerne Festival (together with Pierre Boulez).
Premiere of the opera "Lost Highway" after the movie of the same name by David Lynch (libretto: Elfriede Jelinek and Olga Neuwirth) at steirischer herbst 2003 in a co-production with "Graz Kulturhauptstadt 2003" and Theater Basel (Hybrid CD released in 2007 on the KAIROS label).
2002–05 Various theater and film scores – most recently "erik(A)"; diverse portrait concerts in Austria and abroad.
2004 "... ce qui arrive...": idea and music by Olga Neuwirth, a commission from ECHO (Texts and voice: Paul Auster; Ensemble Modern – with Georgette Dee; Video: Dominique Gonzales-Foerster).
2005 "... le temps désenchanté...ou le dialogue aux enfer": Sound installation on Place Igor Stravinsky, commission from Centre Pompidou and Ircam, Paris; in addition, a short film-essay by Olga Neuwirth, with a fragment from René Clair's film "Paris qui dort" as its point of departure; videoclip to the three songs "no more secrets, no more lies" with Georgette Dee and Ensemble Modern; Portrait-Exhibition "Die Macht der Sprache" ("The power of speech") together with Valie Export and Elfriede Jelinek in NYC – Austrian Cultural Forum.
2006 Olga Neuwirth was elected a member of the Academy of the Arts, Berlin; The trumpet concerto "... miramondo multiplo..." for the Vienna Philharmonic under the direction of Pierre Boulez and the soloist Håkan Hardenberger premiered at the Salzburg Festival.
2007 US premiere of "Lost Highway" in NYC and Oberlin; Participation in documenta12 in Kassel with the sound installation "... miramondo multiplo...".
2008 receives Heidelberger Künstlerinnenpreis; English premiere of "Lost Highway" by the English National Opera at the Young Vic (directed by Diane Paulus).
2009 Filmmusic for "Das Vaterspiel" by Michael Glawogger (WP: Berlinale); "South Bank Show Award" for "Lost Highway" (for the production by the English National Opera at the Young Vic). World premiere of viola concerto "Remnants of Songs… an Amphigory" at Musikprotokoll Graz.
2010 Louis Spohr Music Prize of the city of Braunschweig; Great Austrian State Prize.
2012 WP of "American Lulu", a version of Alban Berg's opera, in Berlin.
2014 Film score for the feature film "Ich Seh Ich seh" by Veronika Franz and Severin Fiala
2015 Her 80 minutes electronic/space/ensemble piece "Le Encantadas" based on the acoustics of a venetian church receives its premiere at Donaueschingen and at the Festival d'Automne à Paris; WP of "Masaot/Clocks Without Hands" for orchestra in Cologne; US premiere in February 2016 at Carnegie Hall.
2016 Receives the prestigious Roche Commission for the Lucerne Festival for her percussion concerto "Trurliade–Zone Zero" and is composer-in-residence at the festival for the second time.
2017 Her 3D sound-installation in collaboration with IRCAM is inaugurated at Centre Pompidou in Paris for it's 40th anniversary; collaborations with architect Peter Zumthor and Asymptote Architects; German Music Author's Prize (for symphonic composition).
2018 WP of the revised version of her opera "THE OUTCAST – Homage to Herman Melville" in Vienna.
2019 World premiere of her opera "Orlando" at he Vienna State Opera; Prize of the Christoph & Stephan Kaske Foundation; Österreichisches Ehrenzeichen für Wissenschaft und Kunst.
2020 Robert Schumann-Preis für Dichtung und Musik of the city of Mainz.
2021 Wolf Prize for Music.
2022 Grawemeyer Award for Music Composition; Ernst von Siemens Music Prize.
2022/23 Featured composer at Konserthuset Stockholm and Capell-Compositrice at Staatskapelle Dresden.
Lives in Vienna.
Compositions before 2000 and between 2009 and 2021 are published with Ricordi.
This biography can be reproduced free of charge in concert programmes with the following credit: Reprinted by kind permission of Boosey & Hawkes